A Book Review of THE SEVEN HUSBANDS OF EVELYN HUGO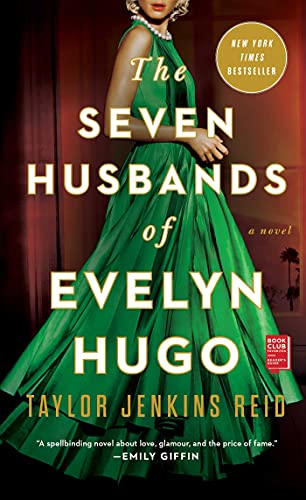 "I'm under absolutely no obligation to make sense to you"
Anyone who's spent a few seconds on BookTok (the novel-loving side of popular app, TikTok) has witnessed the raving of Taylor Jenkins Reid's, The Seven Husbands of Evelyn Hugo. Author of other popular BookTok books, Daisy Jones & the Six and Malibu Rising, Jenkins Reid is making quite the name for herself. If you've been hiding under a rock in the last year– and find yourself unfamiliar with her work –you may need to drive to your local book shop ASAP.
If you've read Elizabeth Gilbert's City of Girls, Matt Haig's The Midnight Library, or Meryl Wilsner's Something to Talk About, this should be your next read (or if you've read already read The Seven Husbands of Evelyn Hugo, look into getting the previously listed books). 
Summary:
"Evelyn always leaves you hoping you'll get just a little bit more. And she always denies you." The mysterious, 79-year-old Evelyn Hugo allows young journalist, Monique Grant, to be the first to peak into her electrifying life as Hollywood's hottest actress of the 60's, and discover the eye-opening truths surrounding her seven marriages. Monique finds herself wondering why the tightlipped celebrity wants her– a complete stranger and a rather novice writer –to publicly publish her decades-held secrets.
Evelyn Hugo shares her entire life story, providing "the scoop" on each of her former husbands. Thus, book is dissected into parts, each one named after a husband. Contrastingly, the reader quickly realizes that the plot does not resolve around the men in her life, but a fellow actress she worked with, Celia St. James. 
My Thoughts:
She is one of (if not) the best-written protagonists I've had the privilege of reading. She is flawed, complicated, cruel at times, and yet thoroughly loveable. She recognizes her flaws and admits she has a need to be loved by all. Whenever the story seems to slow down, there's a new complication that kept me turning its pages with exhilaration. 
My favorite part of this novel is the way love is defined. Evelyn's best friend, Harry, is the one she truly loves most in the world, despite their relationship not being romantic in the slightest. Evelyn also firmly believes that a relationship needs actual love, rather than any amount of willingness to make it work. She doesn't think that a soulmate has to be romantic in order to be satisfied in life. Evelyn admits, "I didn't need boys in order to feel good. And that realization gave me great power." Her view on personal connections is thought-intriguing and based on lifelong regrets she can't change. 
I finished this novel in less than two days as well as in an emotional mess of tears. This story was clearly felt by the writer. Jenkin Reid had me skimming the internet afterward in denial, for I still refuse to believe that Evelyn Hugo is simply be a character driven from her imagination. At exactly 400 pages, this story feels much quicker than it actually is. This is a must-read for any teen or adult looking for a smashingly enthralling story. 
If your interested in a heart-wrenchingly emotional story to get you out of a reading slump or if you want to uncover the mysteries revolving around the Marilyn Monroe-type actress, make The Seven Husbands of Evelyn Hugo your next read.
Genre: Historical Fiction, LGBT, Romance, Psychological Fiction
Personal Rating: ★★★★★
Age Rating: 15+
Pages: 400
Release Date: June 13, 2017
Leave a Comment