Book Review of When Life Gives You Lulu Lemons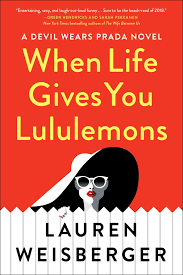 Title: When Life Gives You Lulu Lemons 
Author: Lauren Weisberger 
Genres: chick lit, fiction
Rating: 4/5 stars 
Summary: 
When Life Gives You Lululemons takes place in the suburbs of Greenwich, Connecticut, where the women are well dressed and full of Botox. We follow the lives of three women who have found themselves as each others allies as they navigate the suburbs of Greenwich. Karolina, ex model and wife of a Senator, had been accused of DUI with her son in the car and is hiding out in Greenwich from the DC community. Her friend Miriam, former lawyer turned housewife, invites her to stay at her own home as well as help her. Miriam ends up hiring a publicist and Hollywood image consultant, Emily, to help remedy the situation. (Emily is also known as former assistant to Miranda Priestly from The Devil Wears Prada). The three women are trying to manage their relationships, crazy Greenwich women, and plotting revenge on a senator. What could possibly go wrong? 
My Thoughts: 
The nice thing about this book is that although it is the third in the official Devil Wears Prada series, you do not have to read the previous two to understand this one; it is completely standalone. The title in itself is hilarious and will instantly intrigue you to pick it up. 
The characters were highly relatable. From Miriam stressing about her weight and trying to find herself in her new home area, to Emily struggling with a long-distance relationship and feeling replaced in her industry. Karolina… as much as she is an ex-model and battling legal divorce issues, she is ultimately getting revenge on her husband. Each character has their moments as well as their flaws, which honestly made me like them even more. However, the one thing all three women had in common was their loyalty. They would always have each other's back at events and during scandals.  
As for the plot itself, I found some parts of it a bit cliché, although that is to be expected considering the genre and that the setting is a stereotypical wealthy neighborhood. However, it was a delightful, fun, and engaging read. The amount of sass in this book is off the charts.  
I recommend this book for anyone who loves drama and gossip, friendships and girl boss energy. This book is great for anyone who wants an easy read and to just get absorbed into these women's lives of the crazy suburbs of Greenwich.  
Leave a Comment