Book Spotlight: Educated by Tara Westover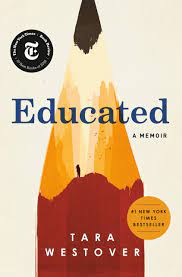 What does it mean to be educated? How can education affect someone's life? These are the fundamental questions that author Tara Westover asks (and answers) in her memoir, Educated.  
In the book, Westover recounts her life from childhood to college and graduate school. Growing up in a Mormon, "off-the-grid" family, Westover did not experience typical aspects of life. She did not have a birth certificate, she did not see a doctor, and she did not attend school. 
Westover's father believed that the public school system was evil and would give his kids a tainted view of life, so his kids were sparsely educated at home with insufficient materials. Growing up in such a setting led Westover's older brother, Shawn, to the brink of madness and caused him to become abusive towards Westover. 
In what would have been high school, and while still dealing with Shawn's rage, Westover realized that she wanted to go to college and pursue a higher education. She self-studied for the ACT and gets accepted into Brigham Young University. She is overall successful at BYU and later pursues graduate studies at Cambridge and Harvard.  
The book has many messages for its audience—one, of course, being the importance of education.  
"Education means different things to different people," says Mr. Melvin, an English teacher at South, while commenting on Westover's intent with the book. "Your education might not come from traditional methods." 
After she got past her father's attempted brainwashing, Westover began her attempts at being educated—sneaking time on the family computer, learning about midwifery from her mother, and reading outdated textbooks in the middle of the night. 
Another prominent message in the novel is one of feminism and women's rights. 
"She speaks so actively and directly about women's rights and the idea of who a woman could be [and] should be in this world," adds Mr. Melvin.  
Throughout her childhood, and into her adult life, Westover's father preached outdated ideas of women being confined to "traditional" roles, like cooking, cleaning, and being mothers. Westover took this criticism and dismissal and used it as drive to become better—more educated; more brave; more adventurous.  
"Seeing her grow into this strong, academic woman was super interesting," adds Mr. Melvin, commenting on the theme of feminism.  
Westover is truly the embodiment of perseverance and determination. In her determination to prove to her father that women can be more than just a measly housewife, Westover learns that she is extremely intelligent and has a knack for academics.  
One of the most important aspects of any novel is, arguably, the storytelling. This element is the deciding factor of whether an audience will be engaged in the book. 
"[Westover's] ability to tell a story is pretty unbelievable…she puts [her stories] together in such a unique but also typically chronological way that makes you want to keep going back to the book," Mr. Melvin said when I mentioned that I couldn't put the book down while reading it. 
Westover's incredibly high quality and engaging storytelling makes you want to go back for more. She writes in this way because she wants audiences to keep going back to her story and she wants them to learn. (Yet another purpose of the title Educated) 
Personally, I read this book over this past summer for AP English Language but reading this book didn't feel like an assignment—it was an experience. Westover's ability to tell her story made me feel as though I was there, living everything with her. 
The book gave me a newfound appreciation for my education, and I would 100% recommend that every high-schooler reads this book.  
Leave a Comment