Despite the Pandemic, Our Titans March On
Covid-19 has permeated every aspect of life. Businesses, schools, and the majority of people have sought ways to adapt and respond to Covid-19, trying to keep the population safe while also sustaining their own lives. 
The CB South Marching Titans are no different. 
For the 2020-2021 season, the Marching Titans had to reorganize and implement new policies to protect its members while still retaining the marching band's essence and fun. 
Katie Robinson, a junior marimba player serving as the front ensemble's section leader, commented on what the new marching band protocol looked like: "We obviously have to be a bit more distanced from each other than usual while we're practicing – at least six feet away. We also have matching masks for performances."
Along with adhering to general safety protocols, the marching band has changed its regular annual activities. 
While usually, the band would participate in in-person competitions every Saturday, Katie explained that this year, the marching band is "supposed to be doing online competitions, but yet haven't competed in any."
Other activities planned for later in the year are still in contention over whether they will occur. 
"They're farther in the year, but the Westchester Christmas parade, which we perform in, and the end of the year banquet might not happen. It's hard to tell what's going to happen with them," Katie said. 
She also noted the many changes the marching band made for football games this year, saying, "People put risers on the end of the football field for us to sit in instead of being in the stands with the audience, and we sit six feet apart. We usually get the third quarter off, but we don't do that anymore because concessions are closed. We usually go there and mingle with the other band, but they aren't even there anymore. Bands can only perform at home games, which is sad because one of my favorite experiences in marching band was getting to watch the other band perform and chat with them afterward."
 Julia Schofield, a junior synthesizer player also in the front ensemble, agreed with Katie, explaining, "I miss having breaks to go to the concession stand during games because that's when we would hang out with friends."
Each member of the marching band, as well as cheerleaders and football players, are allowed two tickets per game for visitors to watch in the stands. 
Despite the changes made, the marching band still performs their show at the beginning of the game and stand tunes throughout. 
At one football game, they even performed the national anthem.
"My mom just comes and watches us perform and leaves because she doesn't want to be in the stands with people," Katie recounted.
 The marching band's show itself also had to be adjusted due to time constraints.
 "We only learned one of the four movements we were supposed to," Katie said. "It was supposed to be about eight minutes, but now it's about a two-minute show because of limited rehearsals, especially in the summer. Our band camp is usually twelve hours a day, but it was only three hours a day this year."
 Julia commented, "We don't practice as a full band as often and are more likely to do sections. We don't have Monday practices or Sunday competitions, and Saturday rehearsals are a lot shorter, but the Tuesday and Thursday practices are the same."
 As Julia and Katie are both members of the front ensemble, the mask regulations don't impact their playing as it does on players in other sections that need to blow air into their instruments.
 Ali Palmer, a senior alto saxophone player, explained that "as a wind player, wearing a mask was strange at first. If we are playing and not learning drill for the day, then we lower the masks when we are about to play. "
Ali clarified that "once we finish a playing rep we immediately put the masks back up. Our playing isn't hindered at all in this way, and we are still safe because we are at least six feet apart. We also have instrument covers that cover the opening of our instrument, known as the bell – this helps stop air going through the horn, but it does muffle our sound a little, so we have to play louder than in past seasons."
All three players agree that even despite the changes and new regulations, the marching band is still as enjoyable as in previous years. 
"Overall, it's still marching band, and everyone has a positive attitude, and we're all excited to be there," Katie concluded. The marching band has carried on through their resilience and dedication and continued to perform despite the pandemic. 
They have already shown remarkable adaptability and enthusiasm so far, and it is shaping up to be a great season.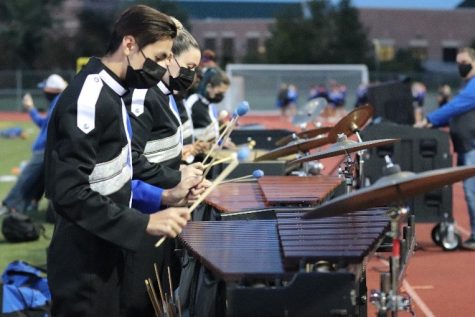 Alan Exaros and Katie Robison playing their instruments. Photo by Anne Magliaro. 
Leave a Comment