What Can I Get for My Parents?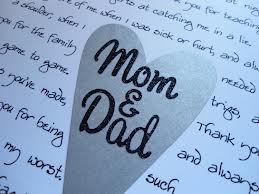 Alright folks… It's that time of year again! Snows falling, lights are up, and sleigh bells are ringing – Christmas is right around the corner. So… do YOU know what to get your parents this year? Well, if you don't, have no fear! I've come up with some great ideas for you. Now, I know we're all very busy around the holidays, but I've got some advice for you all. If you really want to warm someone's heart this year, then take the time to make them something. A store bought gift will never compare to something handmade. While it may be time consuming, I can assure you – it'll be totally worth it.
STORE BOUGHT GIFT IDEAS:
1.       Crazy Socks
It's REALLY cold out! Get your parents something cute, fun, and of course – warm! Crazy socks come in all sorts of colors and patterns, so there's a pair for everyone!
2.       A Customized Mug
I don't know about you, but my mom LOVES coffee in the morning. Give your parents something to hold their favorite drink in! It won't be just any mug though – oh no. You can make a customized mug on Café Press for around $14! You can even put a picture of you and your parents on it! How cute is that? Also, you can customize just about ANYTHING on Café Press… mugs, jewelry, ornaments, clocks, pillows – the list goes on! Give it a try!  http://www.cafepress.com/
3.       Scarves and Sweaters
As they say, sweater weather is better weather! This Christmas, give your parents something practical that they can use every year. You could even buy a matching sweater set for your parents, if they enjoy that kind of thing
CAUTION: Unless your parents have a great sense of humor, don't buy them an ugly sweater!
4.       FOOD!
This is one of the easiest, greatest gifts you could get ANYONE! What better way to you wish your parents a happy holiday then to fill their tummies with something delicious? Get them something sweet – cake, cookies, and chocolates are perfect. If you really want to knock their socks off, make something yourself! Now, if you're not the best cook and may accidentally end up setting the kitchen on fire, then please – stick with the store bought goods.
5.       Gift cards
Sometimes it's hard to pick out a specific gift. So, why not let them pick it themselves? By getting them a gift card to their favorite store, you can rest at ease, because they'll definitely like it. Even if you don't know what their favorite store is, pick a place that sells things you think they'd like.
6.       Candles
Everyone loves scented candles, especially around the holidays! I mean, who can resist the ones that smell like cinnamon and apples? To make things interesting, try to pick a candle that matches your parents' personalities!
DIY GIFT IDEAS:
1.       Scrapbook
This time of year is all about making new memories – and cherishing the old ones. Why not give your parents a little reminder of all the good times they've shared with you? I gave my parents a scrapbook last year, and they went BANANAS. I don't know how I'm going to top that this year. Anyways, please give scrapbooking a try, even if you're not the most creative person, it really is the thought that counts.
2.       Write them a song!
This is a great way to let your parents know how much you love them, or to give them a good laugh. Pick any holiday song, and add your own lyrics! This makes an unforgettable gift – literally. They'll even be singing it in the shower.
3.       Poetry Book
With all the time we have off, you may find your inner poet. Write a book full of poetry to give to your parents. Remember – you don't need to be William Shakespeare to get your message across. Just write what comes to mind when you think of the holidays, family, and the memories you've made together.
4.       "Things I love about You" Book
This is literally one of the cutest gifts you can give. Remind your parents of how much you appreciate them with this adorable book.
5.       Get Creative!
Take the time to make something over the break! You can decorate a picture frame and put a cute family photo in it. Or you could sculpt an ornament out of clay, paint it, and give it to your parents! If you have siblings, work together to make something awesome and meaningful for your parents. If you're into art, try to paint their portraits. Put together a basket of small things they like and decorate it! The best gifts are the ones you least expect.
Leave a Comment