The Science of Gifting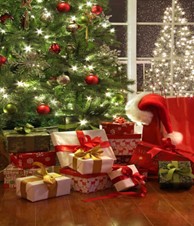 Although it is past the holidays, it is never too late to talk about the science of gifting; one of the most stressful, time-consuming, and expensive things during the winter.
Every year, as the holidays roll by, one thing lingers in all of our minds: what do we gift our friends and family. Even though this season occurs every year, many of us still tend to overthink the kinds of gifts our loved ones would enjoy. We don't want them to just pretend to be excited and throw the gift in a corner the minute we leave; this caution floods our minds as we search for the perfect present.
One of the biggest factors we tend to consider is cost. Unsurprisingly, we often feel that we must spend a lot to show our friends and family how much we love them. We feel that only the most extravagant and unexpected gift would make the cut. We want to impress people with a unique and memorable gift. However, many psychologists say that most gift-receivers are not expecting a huge surprise, but rather hope for something they will truly use for a long period of time.
Sometimes, this could even mean directly asking what others would like. Although this eliminates the element of surprise, gift-givers often forget that an expected gift can often be more enjoyable than a surprise gift that was never wanted. Rather than completely guessing what someone could possibly wish for, sometimes the simplest and best option is to request a few gift options that would make the person happy; choosing one or a few out of a list of options maintains surprise, while also ensuring that the gift will be genuinely appreciated.
Above all these misjudgments regarding gift giving comes the biggest one: gift cards. Sure, opening an envelope and just seeing a gift card isn't that exciting, but sometimes, it's really all somebody wants. We all know those people that say they don't know what they want, but after a few simple questions, the answer comes right out of them. However, alongside these people are the ones that truly, with no exceptions, want NOTHING. What do we get them? Do we get them yet another piece of jewelry to add on to their collection? Or maybe another jersey of their favorite sports team. But these gifts would just act as an unnecessary addition to what is probably already a clutter.
However, gifting a simple gift card for their favorite restaurant or store would not only provide them with endless choices on what to gift themselves, but also remain as a long-lasting gift that could be of use at any time. Rather than getting them something they don't need at the moment, a gift card could be the perfect thing for that one morning when the person suddenly realizes they want something.
So, if you really can't find something to get someone, it's perfectly fine to settle with a gift card. It's not heartless or impersonal if nothing else fits that person's needs or wants for the time being.
The holidays are supposed to be a fun time to connect with loved ones, so don't stress about the gift; sometimes, the simplest option is the best one. Take time, think really hard, and buy a gift. I am sure any present you bought your friends and family was perfect, so make sure this is the last thing you worry about during this holiday season.
Leave a Comment