The Daily Veg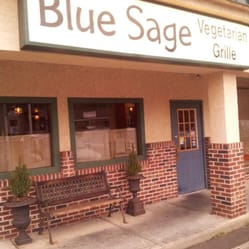 There are vegetarian options at almost every restaurant you go to. But from salads to pasta and over again, these options tend to get old. As a vegetarian, I find myself constantly searching menus for a new and exciting vegetarian dish.
Many of my vegan and vegetarian friends often find themselves in the same position. We need some variety in our lives! And I'm here to tell you the best places to grab a somewhat healthy and delicious vegetarian meal.
The Blue Sage is a vegetarian restaurant off of 2nd Street Pike in Southampton, PA. The menu offers delectable options for both lunch and dinner. For salad-lovers, there are three exotic options that include maple pecans and maple mustard vinaigrettes.
Appetizers include plates of feta, falafel and goat cheese. Blue corn Johnny Cakes are offered with pear maple and sunflower-goat cheese croutons.
Blue Sage even offers artisanal yellow corn tacos. Their optional toppings include shiitake bacon, red cabbage, avocado, tofu and sweet potato hash. There are four varieties of tacos and each are absolutely amazing!
Cubanos are offered with many 'savory fillings' and a side of baby greens. The 'Farmhouse' is my personal favorite. It has grilled eggplant with melted brie, tomato relish, baby spinach and roasted garlic aioli.
The Blue Sage's lunch entrees are to die for. These are more than your average pasta dish or Caesar salad. Options include the Blue LT, a multigrain sandwich with tomato, avocado, asiago "bacon", pea leaves, maytag blue and green tabasco aioli. Other lunch dishes include tortilla wraps, hoagies, gyros and soups.
For dinner, salads stay on the menu and appetizers stay the same. The taco section of the menu is also on the dinner menu. It's good to have some constants in this ever changing life.
Other dinners include a Falafel wrap and pressed baguette sandwiches. Vegetable stir-fry's and a "chicken & waffles" substitute are popular dishes at the Blue Sage.
A new section of the menu does arise at dinner time. The Ramen section is the place to be. Ginger Scallion and Wild Mushroom varieties are available.
The Blue Sage is a change of pace for many vegetarians and vegans alike. It's close in proximity and is open from 11am-9pm Sunday to Thursday and 11:30am-10pm on Fridays and Saturdays.
If you haven't been here yet, get there now!