It is that Womanly Time of the Year Again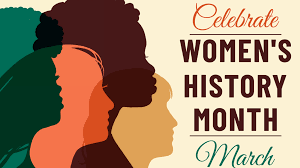 Here is your annual reminder that it is the best month of all the months, Women's History Month!
It all started February 28th, 1909, when a group of Manhattan socialists and suffragists honored the one-year anniversary of the garment strike that was initiated and led by the International Ladies' Garment Workers' Union, this was recognized as National Women's Day.
Like seriously, only a day? I mean I guess its something considering not all states were even allowing women to vote yet.
But decades later we see some improvement when President Jimmy Carter instated the week of March 8th National Women's History Week in 1980. And it was not until 1987 that Congress recognized March as Women's History Month.
Genius move to make it a whole month rather than a week because there is too much to celebrate in just seven days, let alone one day.
Why Recognize it?
Forever, women have made crucial changes in our world regardless of historic oppression that has carried on into the twenty-first century. Through the centuries, women have not only fought for equality, but for a better world.
We should constantly respect and recognize women's accomplishments, leadership, and persistence. But in March especially, we should make efforts to display these things for everyone to see because far too many people do not know why we should embrace and highlight women.
It is always a great day to be a woman, and it is always a great day to appreciate a woman.
How do you Recognize this Month?
It is pretty simple actually. All you need to do is recognize the importance of women and women's history. Do some research, repost things on social media, and look around you to see the immense amounts of powerful and accomplished women that continue to perservere.
The accomplishments and milestones of women and women's success is looked past far too often. And while everyone should constantly be recognizing these things, this month is the perfect place to teach people how and why we should.
To learn more about women's history, you can read articles on Womenshistory.com.
And to get more involved, join Girls International here at CB South. You can email Macie Mitnick ([email protected]) or Lynn Choi ([email protected]). Or simply join our remind (text cbgirlsint to 81010).
Happy Women's History Month!
Leave a Comment