Float Like a Butterfly, and Get Stung by AB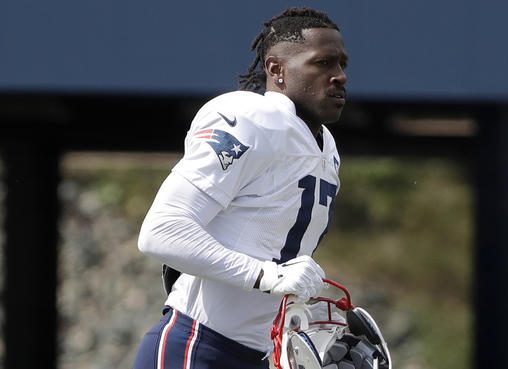 A big talking point in the NFL Season has focused on former All-Pro wideout Antonio Brown.
His shenanigans started back in the Steelers week 17 match-up, one that required them to win and for their division rival Baltimore Ravens to lose to the Cleveland Browns. In this huge game, they need everyone to come together, and especially their #1 wide reciever, arguably the best one in the league.
Yet he was surprisingly absent.
Although the Steelers would win this game, they missed the playoffs due to Baltimore defeating the Cleveland Browns. 
Antonio Brown wasn't done yet.
He wanted big money, but not from Pittsburgh. He demanded a trade and made it known that he wanted a huge contract.
He was a Buffalo Bill for a few hours, until he showed he did not want to play for that team. So later that day he was traded to the Oakland Raiders for a 3rd and 5th round pick.
Brown was a Raider, and received a $50M extension to go along with it.
Brown seemed to have gotten off on the wrong foot with the Raiders (excuse the pun), as he showed up late to his first press conference, as well as training camp – showing up in a hot air balloon.
He also apparently forgot how to read the instructions on avoiding frostbite, as he froze his feet in a cryotherapy chamber.
Then, he decided he would not play with any helmet other than his old unsafe one from Pittsburgh. Antonio Brown filed grievances over the helmet rule several times, losing every single one.
Then, Brown called Oakland General Manager Mike Mayock a racial slur, threatened to fight him, then punted a football and told him to fine him for that. 
So he did.
T H E N, Brown posted the letter telling him he had to pay this fine on social media, as well as a phone call with Head Coach Jon Gruden, who told Brown to "just play football man."
All of that in a three-month span ended Brown's stay in Oakland.
Mere hours after he was released, Antonio Brown signed with the reigning Super Bowl Champion New England Patriots. Every person who knew football said if anybody could help Antonio Brown, it would be head coach Bill Belichick.
Yet, not even a week after he signed in New England, a sexual assault allegation against Brown was released. Then another allegation came forward two days later.
Brown denied all claims and went on to play in Miami the next week. Brown caught a touchdown in that game and had the most targets on the team, in a shutout win.
Everything seemed to be looking up for Brown, making people question if his tenure in Oakland was an act to get him to New England. Maybe, he was finally getting his act together.
Yet the Patriots released him only days after the win in Miami, likely due to the "intimidating texts" he sent the accusers.
Brown announced his "retirement" the day after.
Since "retirement", Brown returned to school at Central Michigan University. However, he has still remained active on Twitter, getting into beef with Cleveland Browns QB Baker Mayfield and Los Angeles Rams DB Eric Weddle.
Antonio Brown has filed the most grievances of any player in the NFL, and has asked the Patriots to resign him since "they have to pay (him), might as well let (him) earn it."
In three months, Antonio Brown went from arguably the best WR in the NFL to out of the league, and given the nickname "Antonio Clown."