Gucci Mane's Woptober Takeover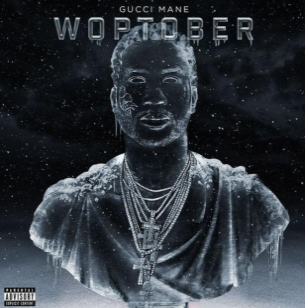 With multiple artists flowing in and out of the rap industry, it's hard to find true potential nowadays.
Old rappers have been overwhelmed by the new boys in the game, but Gucci Mane proves that the old still have the ability to show up the new guys.
Gucci Mane, Guwop, Ice Cream Gucci man, Sauce Daddy or whatever you wish to call him, has been overwhelming the public with his talent since his release from prison in mid-September of this year. So far Gucci has released several albums in 2016 alone, his most recent being the lyrical bliss, Woptober.
Gucci's album took the world by surprise, especially being released not even three months after his popular album Everybody Looking. Nonetheless, Mr. Mane has not failed to impress us with his verbal abilities that constantly leave the public amazed.
Rather than creating an album filled with mixed content, Gucci for the most part has been focusing mainly on his own raw talent.
Although Gucci expresses his brilliance independently throughout multiple tracks, there are two songs in which his does collaborate with other artists. Knowing Gucci's intelligence, he made fantastic decisions by recording Money Machine with non-other than the infamous Rick Ross. Gucci also decided it'd be best to record with Young Dolph for his track Bling Blaww Burr.
With the 14 audio masterpieces Gucci released on his new album, each one seems to help express his experiences throughout his life. Gucci can be seen referring to his roots in his song Bling Blaww Burr from stating "I'm from East Atlanta Georgia, I'm in love with the south." Phrases like this show Gucci's compassion and love for Atlanta, the city that raised him to the man he is today.
Not only that, but he constantly mentions his hometown throughout the album, in such cases like "Take a tour with down south, American G. Tryna flood the dirty south, East Atlanta and streets," (Money Machine).
Gucci Mane not only expresses his love for his home, he expresses his love for his cash. On top of the phenomenal soundtrack, Gucci flexes his wealth.
He constantly refers the large amounts of "doe" his rap career has generated and uses it a reference point throughout the album. His tracks "Money Machine" and "Icy Lil B****" (reference to his diamonds) both are perfect examples.
All in all, Woptober is highly impressive for this generation of rap. Gucci mane obviously found the key to what peaks the listeners interest, and went all out when creating this album.
Many people refer to artists like Kanye West or Drake as modern age geniuses, when truly Gucci Mane is on a whole other level as it is.
If you haven't already, it'd be best to go out and listen to the soundtrack yourself for an experience like no other.