Easy Winter Fashion Ideas for 2016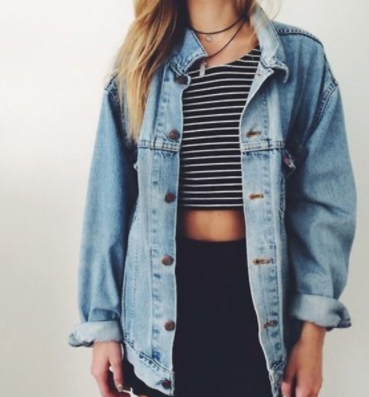 Ladies, it's getting to that time of year again; you dread getting out of your warm bed to face the struggle of not knowing what to wear.
     But how could that be? Personally, it's my favorite time of the year for fashion! I'm going to tell you four easy clothing ideas to optimize your winter fashion experience. 
The first article I suggest buying for the fall and winter season is an oversized jean jacket. Simple and versatile, jean jackets are a must have. The jean jacket goes with mostly anything. Any size is super stylish, but I suggest going oversized since it's comfortable and allows for the cuffing of sleeves: a fashionable new trend.  "My jean jacket is my security and I will wear it to my grave! It's so easy and goes with everything and actually keeps me warm so it's my fall go to," said Emily Nardo: fashion guru.

The second article of clothing I suggest buying for this time of the year would be a fitted turtleneck. Warm and comfortable, the turtleneck would pair perfectly with the oversized jean jacket. Fitted turtlenecks also show off your body, giving you a more stylish look. I have multiple turtlenecks, but my favorite is my fitted black one. It's simple but it goes with practically everything while still showing off my curves and hips.

I would pair my turtleneck and jean jacket with a pair of fashionable jeans. For this year, I suggest buying a pair of black ripped jeans. Balancing casual and formal, black ripped jeans offer the effortless look while tying in sophistication with their dark color. These jeans are versatile and can be paired with various tops. From sneakers and a crew neck for the school day to boots and a sweater for a poetry festival, black ripped jeans go with nearly everything.  

The last article I suggest buying would be boots. No matter what year it is, boots will forever stay stylish. With so many styles to choose from, you can choose the boots that best fit your style. Last year, I was into over the knee black boots paired with light wash jeans, but this year I prefer booties. A pair of boots I suggest to all is Doc Martens. Docs come in different lengths, styles, and colors to suit your style. I have a pair of suede burgundy Doc boots of medium length and a pair of brown leather Doc booties. Both are super comfy and have stayed in great shape! This year I think I am going to get black booties from Docs that are leather which I think will add a flare in my outfits.
     Although these articles can be worn with anything, can you imagine them together? A jean jacket and a black turtleneck worn with black ripped jeans and super cute tan fringe booties would be an easy winter outfit. I suggest keeping these four useful articles in your mind as you shop for the upcoming winter season!