South "Setting" High Standards in Volleyball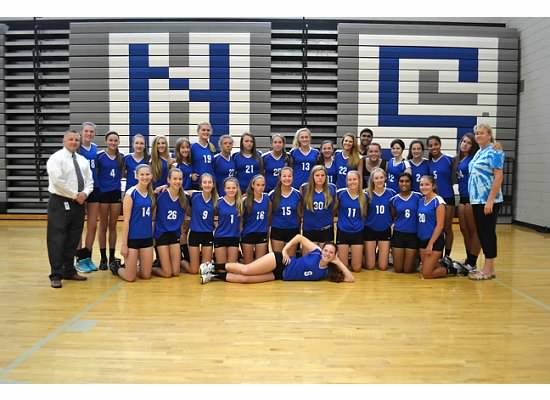 It is half-way through the season and the Girls Volleyball team is off to a killer start. Winning all but one game so far, they are on the way to having a top spot in the conference.
The team is young this year with only two seniors, Taylor Danilowicz and Larissa Keer. Danilowicz is an outside hitter and Keer is the libero, a defensive position in the back row.
For the first time in many years, CB South beat rival Lansdale Catholic. It was a very long match, going to five games, but South dug in and won during the last few points of the final game. Referring to occasions like this one, Keer said, "Some nights are rough with late practices and losses, but the best nights tend to cancel out the worst."
Most of the wins have been long matches, going to five games in typical South style. At the end of these long games everyone is tired, but "we are a machine that works together to reach an end result of winning," said Keer.
The team is large this year with 28 members spread across JV and varsity. Keer said, "No matter how good you, are each of us work to get better and stay pumped up." Considering the pre-season began in early August, this team has spent a lot of time together.
Erin Cleary, junior, has been working hard as the setter and has been doing a great job, especially when she does her "varsity tip." Sarah Poli, junior, is an outside hitter alongside Danilowicz and has been helping to put the ball away as well.
Two great middles graduated last year, but juniors Breanna Jackson and Meghan Dunn have stepped up to fill their shoes. Freshman Sara Ecklemeyer has been playing some middle as well and has been playing beyond her years.
Playing opposite of setter Cleary is Meghan Manderson, who has been having a great serving season and has been getting to hit opposite. Brianna Bannach plays her back row, passing alongside Keer and Danilowicz.
After the fun of "Dig Pink" on October 6, a game against Pennridge to support the fight against breast cancer, South's team is now looking forward to another exciting game, Senior Night, on October 13. Students of all grades are invited to come out and join the fun.
"Volleyball is a really great sport to be involved in. Win, lose, or tie, we are a family who sticks together," said Keer. "I love my team, and I'm excited to see how we do for the rest of the season."