Baz Luhrmann's Elvis: A Review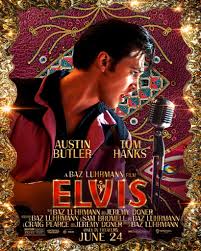 Note: This review is spoiler-free!
He is known as the King of Rock & Roll: Elvis Presley. His death rocked the nation; forty-five years later, his legacy is portrayed on the big screen. Austin Butler took on the role of Elvis himself and played his character in an unforgettable way.
As a member of Gen-Z, walking into the theaters, I did not expect any songs I would know or have any background on the story. In addition, I dreaded the fact that the movie was a whopping three hours. As I took my seat in the theater, I couldn't help but notice the floods of people entering with Elvis merchandise—shirts, hats, pants. I wondered how anyone could be so beloved by the people of his time, and then the movie undoubtedly explained it. Not once did I check my watch or count down the seconds until it was over, despite it being three hours.
The story portrays the life of Elvis—all the way from back when he was growing up in the 1940s. By the end of the story, you get the specifics of the heartbreaking tale of the manipulation of Colonel Tom Parker, played by Tom Hanks. In addition, the love life, the hardships, and the successes Elvis has experienced. The movie's core primarily centers around the memorable Las Vegas shows that Presley put on—and what happened behind the scenes of these shows that many were not aware of. The dancing, way of talking, and even singing could not be more on point by Austin Butler. Throughout this emotional rollercoaster, be prepared to cry, laugh, smile, and to, most importantly, sing. 
This film is perfect for all ages and would especially be admired by Elvis Presley lovers. It not only thoroughly explores the career of music icon Presley, but it also goes into the historical context of the time period and its impact on his legacy. It's almost impossible to mention the 1960s without mentioning the name of Elvis Presley, who forever stamped history in terms of music. 
The first viewing of this movie was not enough for me, I went back to see it again. Two times became three times. Three times became four times. And yes, four times became five times. And throughout all five viewings of this movie, I was impressed every single time. 
Overall, I give this movie a 10 out of 10.
View Comments(1)