Review of Super Bowl LVI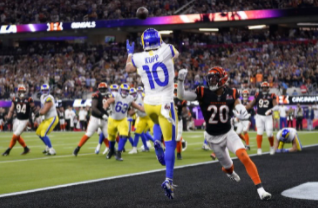 The unstoppable Los Angeles Rams won Super Bowl 56 over the underdog Cincinnati Bengals on Sunday. Numerous Rams players won their first well deserved rings and stopped the uber confident Burrow led Bengals. 
Rams stars Matthew Stafford, Aaron Donald, Odell Beckham Jr., Jalen Ramsey, and Cooper Kupp all finally won the Super Bowl with a final score of 23-20. The theme of the playoffs continued with yet another score won by just three points, but this one wasn't off of a field goal. 
All year Cooper Kupp put up huge numbers by leading the NFL in receiving yards, receptions, and touchdowns to become the first outright triple crown winner since Sterling Sharpe in 1992. After being quiet for most of the game, Kupp came up huge late in the fourth quarter with 4 catches on the final drive. The Stafford and Kupp connection was strong all year and that continued as they found each other on the game winning touchdown with just over a minute left. 
Kupp won Super Bowl MVP and that was the cherry on top to the greatest single receiving season of all-time. Even Jerry Rice didn't win the triple crown, Offensive Player of the Year, and Super Bowl MVP in a single season. 
However, getting to that game winning drive seemed like a far-fetched dream after Odell Beckham Jr. tore his ACL in the second quarter. This allowed the Cincinnati Bengals to march back in the third quarter with a 75-yard touchdown to Tee Higgins. Joe Burrow seemed to have it all under control as the 4th quarter came with a lead of 20-16. 
Surprisingly though, the Bengals only managed 5 first downs on their last 6 drives. The horrendous offensive-line of the Bengals is what ultimately costed them the game as on the final drive Joe Burrow had to throw a rushed pass while being sacked by Aaron Donald. Bengals running back Samaje Perine was closest to the ball and for some reason decided not to dive for it. That is a decision I will never understand. 
Coaching mistakes also contributed immensely to the Bengals heart breaking loss. After keeping Aaron Donald quiet all game, it all came crashing down late in the fourth. Bengals Coach Zac Taylor decided to run the ball on 3rd down with backup running back, Samaje Perine, over Pro Bowl Running back Joe Mixon. Who made the tackle you say? 7-time All-Pro and 3-time DPOY, Aaron Donald. 
In fact, Joe Mixon wasn't even on the field on the fourth down and what ended up being the final play of the game for the Bengals. As a fan of neither team (Go Birds), I was hoping for overtime or for the Bengals to end the season in story book fashion with one more touchdown bomb from Joe Burrow to Ja`Marr Chase. I guess you could say I hopped on the Bengals bandwagon for a few weeks. 
Rewinding to the Rams game winning drive where the penalties came in after being unseen for most of the game. The holding call on Bengals Logan Wilson on 3rd down is one of the most questionable penalties ever in a Super Bowl. It seemed to be a call that refs would let go, especially this late in a game. 
Although, as many Rams fans have pointed out, it makes up for the Tee Higgins facemask on Jalen Ramsey on the 75-yard touchdown catch and run. While this may be true, the holding penalty came at the most crucial moment of the biggest game, and I think refs should stay consistent with flags. Fans and viewers alike shouldn't reward bad refereeing. 
However, it was great to see Matt Stafford win a championship after 12 seasons with the Detroit Lions. Only a year ago he was signed by the Rams and now he is a champion. Another player that escaped a bad situation was Odell Beckham with the Cleveland Browns. Witnessing him catch a touchdown pass in the Super Bowl was amazing to see which made it even sadder to see him get injured a short time later. 
Sean McVay made the right adjustments in the second half and showed just how satisfying it can be for a head coach to win a Super Bowl. I don't expect it to be McVay`s last time in the big game as he is the best head coach in the league outside of Bill Belichick. Rams tackle Andrew Whitworth is yet another Rams player that cannot go without mention because he won the Walter Payton Man of the Year Award this season and will likely retire as a champion at the age of 40. 
The Halftime show and the commercials are what many tune in to see every year as well. This year`s show was outstanding with Dr. Dre, Snoop Dogg, Eminem, Kendrick Lamar, 50 Cent, and Mary J. Blige. I especially loved the ending with Dr. Dre`s timeless song "Still DRE". I enjoyed how it went back and forth between all the performers and was longer than last year`s show. 50 Cent hanging upside down on the ceiling is something that will make this halftime show memorable for years to come and Eminem`s "Lose Yourself" encapsulated what is probably going through players' minds throughout the Super Bowl. 
A noticeable upgrade in this year`s Super Bowl presentation was the commercials. Crypto.com`s commercial with LeBron James and his 17-year-old self and the Doritos singing animals were standouts. The most quality and well put together commercial this year though was Chevy`s Silverado commercial that recreated The Sopranos opening credits. As soon as I heard it my head whipped right back to the TV, and it was just such an excellent recreation of the legendary show`s intro. 
Another improvement was this Super Bowl`s 36 million households tuning in, which was 12% more than last year`s. A Super Bowl coming down to the last play is all that viewers can hope for and that is exactly what was delivered. While watching the young and exuberant Bengals lose trying to grasp Cincy`s first Super Bowl victory was heartbreaking, the greatness of the halftime show, commercials, and the individual players on the Rams still made it a special night. 
Overall, I`d give Super Bowl 56 a rating of 8.9/10. 
Leave a Comment