A Review of the 87th Academy Awards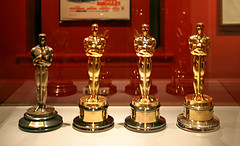 The 87th Annual Academy Awards (also known as the Oscars) that aired on February 22, 2015 was a star-studded event filled with witty banter, lavish performances, memorable tributes, and heartfelt messages that  inspired the entire nation. A-list celebrates who were decked out in designer suits, dresses, and jewels gathered together to celebrate the year's best and most unforgettable motion pictures.
The historic televised event has had many surprising and lasting memories throughout the years. However, many said that this year's awards fell short of its legendary reputation. Many critics, bloggers, and Youtubers said that "the Oscars weren't necessarily bad, but they didn't have anything that left [me] shocked or moved." Others such as Oprah Winfrey and Ellen DeGeneres called the Oscars "hilarious" and "a great representation of modern day society". Although the overall response to the 2015 Oscars was divided, many, including myself, felt that host Neil  Patrick Harris started out funny yet got stuck in a pile full of cheesy jokes.
There were many awards, but Birdman and the Grand Budapest Hotel ranked at the top, each sweeping several awards. The most unforgettable speech of the night was Eddie Redmayne's when he won Best Actor for his role in the film The Theory of Everything. Redmayne's genuine smile and shocked look showed his true appreciation and gratitude for the award
The Oscars was also filled with many tributes and social messages. Lady Gaga gave an astonishing and powerful tribute to the 50th anniversary of The Sound of Music. Singer John Legend sang his song from the movie Selma to spread awareness about African American rights and equality. The most memorable tribute during the show was the moving speech about Domestic Violence. In accordance with the speech, Katy Perry sang a heartfelt song in order to raise consciousness about the dangers of Domestic Violence. Domestic Violence is and will always be a standing and cruel issue among society, and the Oscars allowed those who suffer from it to gain the courage to search for help.
Although the 87th annual Academy Awards was not as entertaining or shocking as expected, its emotional appeal towards issues in society made its purpose much greater than basic entertainment. Hollywood uses its popularity both to entertain and to send great messages to society.