Flappy Bird Takes World by Storm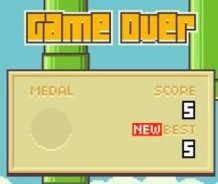 Flappy Bird has flown its way into the hearts of game players worldwide. The game, which involves "tapping" the screen of your phone to get an animated bird through a series of obstacles, has quickly become a favorite for people of all ages.
Challenging to get a hang of, many people's first impressions of Flappy Bird reflect their frustration with the game. However, their determination to reach a higher score makes the game highly addicting.
Recently, the game skyrocketed to number one in the App Store. Overwhelmed by his huge success, creator Dong Nguyen tweeted several times about his undesired spotlight. Rumors were circulating that he had committed suicide due to the stress, all of which are false. However, he has called for Flappy Bird to be removed from all app stores. Anyone who has downloaded the game prior to the shut down can continue to play, but it is unavailable for new downloads.
Knock-off versions of the beloved game, such as Splashy Fish and Flappy Wings, have taken Flappy Bird's place in the top app charts.
Flappy Bird may have created a new era of mobile games, changing the way we spend those few spare moments we have throughout the day.