All About Sochi: An Olympics Recap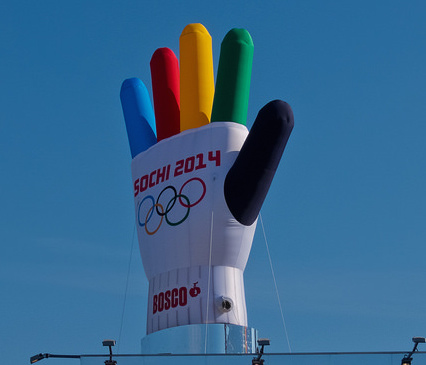 First a Little History
The Olympic Games began in Ancient Greece in 776 B.C. They were held every four years in honor of the Greek gods in Olympia. The first few Olympics consisted only of footraces, but various wrestling, boxing and discus and javelin throwing events were added later. Winners would be announced at the closing ceremony and were crowned with an olive tree wreath. In these ancient games, participation was limited only to freeborn male citizens in Greece.  The ancient games ended when Roman Emperor Theodosius I banned the games in A.D. 393.
The first modern Olympic Games was hosted in Athens, Greece in 1896, after the idea was proposed by Baron Pierre de Coubertin at a French Sports Union meeting in 1892. Those first games included events such as  track and field, gymnastics, swimming, wrestling, cycling, tennis, weightlifting, shooting and fencing. Only male athletes participated. The Winter Olympics began in 1924 with events including figure skating, ice hockey, bobsledding and the biathlon. In 1916, 1940 and 1944, however, the Olympics were cancelled because of WWI and WWII. Since then, the winter and summer Olympics have each been held every four years, with more countries and more athletes participating each time.
Seven Things You May Not Know about Sochi
With the Winter Olympics over, people are starting to forget the small city in Russia that hosted the games this year. But there's a lot more to Sochi than you'd think. These are seven things we bet you didn't know about Sochi, Russia:
1.) Think Sochi is a cold, frozen Russian city? Well think again because Sochi is actually a sub-tropical Russian summer resort and is in fact the warmest place a Winter Olympics has ever been held. It took a massive snow making operation to make the Winter Olympics possible, since temperatures rarely drop below 53 degrees Fahrenheit.
2.) Sochi is a fairly small city to host such a big game. Its population is only 400,000 and it was estimated that over 500,000 spectators, athletes, and officials filled the streets of the city during the games.
3.) The infamous Joseph Stalin gave a name to this town when he used it as his summer resort. He built his vacation home, or dacha, right in the middle of town. Stalin's study, as well as a wax figure of the dictator, is open to the public.
4.)The Olympic torch, as it traditionally circles the host nation, made some pretty impressive stops this year. The journey took 123 days, from October 7 to February 7, and on October 20, the torch reached the North Pole for the first time, with the help of a nuclear-powered icebreaker. On November 6 it flew into outer space via Soyuz rocket, and on November 23 it sank to the bottom of the world's deepest freshwater lake: Lake Baikal in Siberia. And in early February it ascended to the top of Europe's highest mountain, Mount Elbrus.
5.) Sochi became the greenest games in history, due to the city's massive efforts for eco-friendly building materials and renewable energy.
6.) If you ever visit Sochi, be careful what you pack, because the official list of prohibited items contains some more interesting things than your typical firearms and weapons. You can't bring anti-freeze, thermos, TVs, bikes, large flags, or meteorological equipment on your travels.
7.) Russia held a nationwide contest for the official mascot of Sochi for the Olympics, and over 24,000 ideas were submitted. The three winners were a snow leopard who is an experienced snowboarder, rescuer, and mountain climber; a polar bear who was raised by Arctic explorers and enjoys skiing, speed skating, and curling; and a hare who goes to school, works in her family's restaurant, plays sports, and is considered the busiest creature in the forest.
Sports Overview
The Sochi Games held last month were groundbreaking, for 12 new sports were added to the games. These sports included, slopestyle competitions for both snowboarding and skiing, biathlon mixed relay, women's ski jumping, half-pipe for skiing, and also snowboard parallel slalom. Team events were also new additions to the games as well, which consisted of the team event for ice-skating and the team relay for luging. The US was well prepared for these additions to the games, especially snowboarding slopestyle. Team USA made a gold medal sweep in that category, thanks to Sage Kotsenburg and Jamie Anderson. Furthermore, Team USA grabbed two additional medals in the figure skating competitions. This was due to Meryl Davis and Charlie White, who in the Ice Dance event took the gold and in the team skate event won bronze.
Overall, Team USA had the second most medals won in the games with 28, compared to Russia with 33 medals. USA's 28 medals consisted of nine gold, seven silver, and 12 bronzes, leaving America at the top of the leaderboard for most bronzes. Alpine skiing (five medals), freestyle skiing (also five medals), and snowboarding (seven medals) brought in the majority of the medals. Speaking of alpine skiing, Mikaela Shiffrin made Olympic history by being the youngest female (age 18) to ever win gold in slalom. Shiffrin, having just dominated the World Cup, was the gold medal favorite coming into the games.
The US also dominated in figure skating.  Skating together since they were 9 and 10, Meryl Davis and Charlie White (who also played hockey until he was 18) won gold in ice dancing. This was an anticipated win for the couple; they are known as a dynamic duo. The pair also shared in the bronze win with the team event.  Gracie Gold made an appearance at her first Olympic games, placing fourth in her short program and just missing the podium. Jason Brown also made his debut at his first Olympic games, earning sixth in his short program. Finally, it was a trip to her mother's birthplace for Polina Edmunds.  She was extremely young for the competition at age 15,  and is expected be a huge contender for the gold in four years.
Another winning event was bobsledding; a sport kids love to do on snow days turned into a very dangerous, tricky sport. The US took the bronze and silver in women's bobsledding. Lauryn Williams, who was a part of the women's bobsled silver, is not just a winter athlete. Yes, she not only competes in the winter Olympics, but she is a summer athlete as well! She competed in track and field in London 2012 and won gold in the relay and silver in the individual. She is truly a well-rounded athlete.  The US also got a bronze in the men's four-man bobsled and two man bobsled. Overall the US had a strong representation in the Sochi Olympics.