The Next Three Years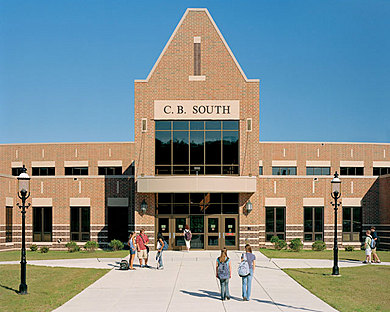 High School. It felt like just yesterday we were all in kindergarten with not a care in the world. These next three years are going to fly by and grant us with new opportunities that we all should take advantage of.
Going from middle school to the high school can be a hard transition. Sophomore Shannon Grosse said, "It was really easy to adjust, but at the same time I was really nervous."
South is "crazy big," said sophomore Allyssa Negron, but now many sophomore students feel they know it like the "back of their hands," said sophomore Dayna Cochran. High school can be quite an adjustment, but sophomore students have certain activities and upcoming events they are most excited to take part in throughout their next three years.
South has several events and activities, such as OEG, which sends care packages over to our troop, and the Anonymous Aid Association, which helps people in our community.
There is also Titan Thespians if you enjoy singing, or if you're a writer maybe writing for South's Titan Tribune is for you. Not only are there plenty of clubs but also numerous events to look forward to.
Some events that students of CB South are a part of are "Sweet Caroline 5K," Coaches vs. Cancer, Homecoming, Junior and Senior Proms, and Sheppard Project.
Several of the sophomore girls have said they "can't wait for prom."
"Just seeing all of the seniors and juniors posting pictures in their stunning dresses on Instagram and Facebook get us all excited," said sophomore Maria Corr. Prom is just one of the several events sophomores are looking forward to.
I BELIEVE! I BELIEVE THAT! I BELIEVE THAT WE WILL WIN! The student section at South sports events is where you can find many of South's students. They are every Titan team's #1 fans. Sophomores are especially excited for all the upcoming events they will be able to take part in, whether it's on the field or in the stands cheering. "I can't wait for all of the football games to come in 11th and 12th grade," said sophomore Brenda Ewart.
As sophomores there is a lot weighing on their shoulders. They have to start thinking about college and the "future." It all happens so quickly.
Shannon Grosse said, "If we didn't have the guidance and help from our teachers it would have been much harder to adjust to South."  With the help of our peers and faculty pointing sophomores in the right direction, the future can be something to look forward to instead of causing fear as to what it may hold.
Before the class of 2016 knows it, they will be looking back on their three years at South, sitting at graduation. "I am looking forward to all the events South has to offer but also to graduation," said sophomore Taylor Goldstein.
In the blink of an eye we are going to be walking up the stairs, shaking the hands of many and receiving the diplomas, saying "We did it, Class of 2016."
"Cherishing all these high school moments is such an important part," said Shannon, because before we know it it's all going to be over.
There are so many great things to look forward to throughout these next three years. Now it's time to let the journey begin.