Student Spotlight: Kevin Witchey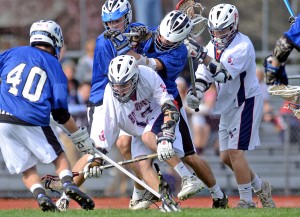 Kevin Witchey is a 17 year old student attending CB South. He is a two sport athlete: quarterback of the football team as well as a member of the varsity lacrosse team.
Kevin is a very aggressive defensive player on the boy's lacrosse team at CB South.  He has played on varsity for lacrosse all four years of high school and has been a starter for all those years.
The boy's lacrosse team has high hopes for this season and the players would let you know that. "We had a great season last year; we made it to the second round of the playoffs which was the first time South lacrosse has won a playoff game," said Kevin.
Kevin will also be the quarterback this year for football in his senior year. At the end of last season he split time with Matt Radwanski, who is graduating this spring. The football team had a tough year and a losing record, causing them to miss out on the playoffs.
This season, however, the team expects to be as good as ever with running back Josh Adams returning from injury. Kevin will be the new quarterback running South's offense and hopefully leading them deep into the playoffs.
"Last year we got outworked in the weight room and on the field and that won't be the case next year," said Kevin. "It was unacceptable for us to allow that. We will be training with a chip on our shoulders, and no one will have more heart than this football team."
Just like for the lacrosse team, Kevin has high hopes for the football team and looks forward to have a successful season in each sport. For right now lacrosse is the main focus considering its currently in season.
The boy's lacrosse team had a successful season last year, but there is always room for improvement. This year they expect to go further than last year's team.
"Our goal this season is to make the third round of the playoffs and eventually the championship," said Kevin. "I think I have great team behind me that can get it done."