A "Peace" of Nelson Mandela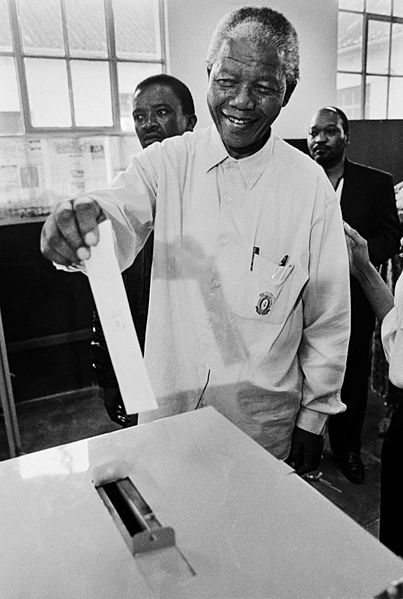 There are only a few in this world who are able to change a country, let alone the entire world. Nelson Mandela was one of these select few who has left an imprint upon history and touched the lives of those around him.
Referred to as "the father of the nation," he was best known for his peaceful protests and leadership in South Africa, where he fought for peace and social justice.
On July 18, 1918 in Mvezo, Transkei, Rolihlahla Mandela was born into the Madiba clan. When he attended primary school in Qunu, his teacher gave him the name "Nelson" along with his other classmates who were also renamed with more Christian names.
In 1930 his father died, leaving Mandela under custody of Jongintaba, his father's cousin and the Regent of the Thembu people. Mandela grew up hearing victorious stories of his ancestors in wars and was inspired to aid the cause of freedom for his people.
His fight for freedom continued when he was expelled for joining a student protest at the University College of Fort Hare, which prevented him from completing his Bachelor of Arts Degree. He later finished his BA in University of South Africa and graduated in 1943 from Fort Hare. He first worked as a mine security officer and later on worked for several attorneys.
Mandela became move involved in politics and joined the African National Congress (ANC) in 1944, when he formed the ANC Youth League. The ANC Youth League organizes protests against the South American Government.
He became well known in the ANC's Defiance Campaign in 1952 after the South African National Party rose in power. He then presided over the Congress of the People. Mandela worked as a lawyer and was unsuccessfully prosecuted in the Treason Trial from 1956-1961.
A year later in 1962, he was arrested again for conspiracy against the government and sentenced for life in the Rivonia Trial.
During his prison sentence from 1962 to 1990, he was transferred from Robben Island to Pollsmoor Prison and then to Victor Verster Prison, spending more than 27 years imprisoned.
In 1990, he was released as a result of social disorder and negotiated with F. W. de Klerk, then President of South Africa, from 1989 to 1994 about racial segregation and multiracial elections. In 1994, a multiracial election was held in which Mandela was elected as South Africa's first black president.
During his time in office, he ended apartheid, which is a severe form of segregation, and declared a new constitution. He created the Truth and Reconciliation Commission that researched human rights abuses in the past.
Mandela kept the original liberal economic policy and also encouraged land reform, fought poverty, and increased healthcare for the people.
His primary concern was transitioning from an apartheid minority rule, chosen from a small group of white leaders, to a multicultural democracy that included all races.
His actions led to his receiving more than 250 awards, including the 1993 Nobel Peace Prize.
Mandela retired in June 1994 but continued with his philanthropy. He met with world leaders and celebrities, and he worked with the Nelson Mandela Foundation in order to combat HIV/AIDS, develop rural areas, and construct schools to improve education.
During his retirement in 2004, Mandela's health began declining. In 2013, his health relapsed further and on December 5 2013, Mandela died at the age of 95 at home in Houghton, Johannesburg, surrounded by his family.
He left behind a legacy by blurring the racial lines between the people and building a steady democracy for his country, against all odds. Through his charisma and energy, Mandela was able to rebuild his country with leadership and improve the lives of struggling South Africans. He used peace as a way to guide South Africa in the right direction and combat the threat of violence.
As the first black president, Nelson Mandela advocated equality and justice for everyone. No matter color, gender, and age, he fought for all until his very last breath.
Leave a Comment