What Happened to Softball in the Olympics?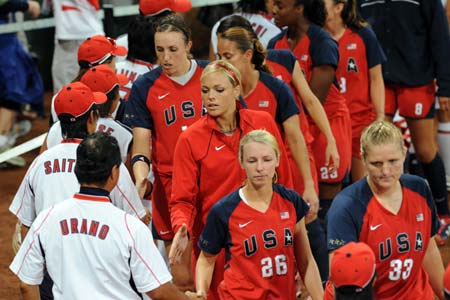 In 1967, softball was formally recognized as an Olympic sport. At the 1996 Summer Olympics in Columbus, Georgia, the first softball game in the Olympic program was played. Since the 2008 games, many decisions have been made regarding softball and baseball in the Olympics.
In July of 2005, the IOC, or the International Olympic Committee, voted to drop baseball and softball from the Olympic Program for the 2012 Summer Olympics. The vote to keep softball on the program required 105 votes.
Unexpectedly, the votes settled out to be 52-52, with one person absent. It was officially decided in August 2009 that softball and baseball wouldn't be on the program. That was the first time in 69 years that a sport was taken out of the Olympics, that sport being polo.
In April 2011, the International Softball Federation and the International Baseball Federation announced that softball and baseball would both be revived in the 2002 Summer Olympics.
Stacey Porter, an Australian softball player who played in 2004 and 2008 said in an interview with NBC, "It is a bit funny seeing London splashed across the TV at the moment for us and I think a lot of the girls are only now just starting to realize that we aren't in the Olympics."
All softball players around the world responded very poorly to softball being taken out, as it was a disappointment not to root for their country and be proud of the sport. Fans of the sport were angry, even if they themselves didn't play.
Sophomore Sophia Bilotta used to watch softball with her family during the 2008 Olympics. She commented that "it's different not watching it anymore. I don't think I can wait until 2020 for the next official game."
Tiffany Robinson, junior, said that she "misses it being in the Olympics. It fits in the Olympics very well, it's a sport. It should be there. It was completely unnecessary to take it out."
Sophomore Emily Aldrige agrees with her. "Softball is a sport. They should have taken out a sport that nobody watches… Like ping pong or something. Softball and baseball were well loved and watched."
Another sophomore, Emily Leddington, said, "It should be put back. There aren't enough female sports in the Olympics."
The removal of softball has also created an impact on the game itself.
Australia's government has given less funding to the sport, as impact from the IOC taking softball out of the program. This decision has kept the sport from travelling long distances in order to compete in tournaments or games around the globe.
Many people are still outraged and sad that softball was taken out, but the next few summer Olympics will just be leading up to the re-programming of the game.
Leave a Comment