Met Gala 2023: The Five Most Memorable Looks
The Met Gala is one of the most anticipated nights of fashion. This year's theme is in honor of Karl Lagerfeld, who passed away in 2019. He was a designer for many popular high-end brands like Patou, Balmain, Chloé, Fendi, and Chanel. In past, Met Gala history, many celebrity attendees have not followed the dress code, but Lagerfeld's time in fashion has given them a plethora of variety and creative outlet for their outfits.
The Met Gala, created by Anna Wintour in 1995, is a charity event that fundraises for the Metropolitan Museum of Art's Costume Institute. There are usually about six-hundred attendees at this event, held at the Metropolitan Museum. The invitation list is not known to the public until the night of the red carpet. Many well-known public figures like the Kardashian/Jenners, Jenna Ortega, Patrick Mahomes, and many more attended. Most celebrities paid tribute with classic black and white looks inspired by Chanel. 
There were so many enchanting and intriguing looks this year, but here are my top five most "memorable" moments: 
      1. Kim Kardashian
Kim wore a corset top and skirt that were draped in 50,000 freshwater pearls. Pearls were very common in all of Lagerfeld's designs, so this outfit is considered on theme. This custom Schiaparelli look took over 1,000 hours to make.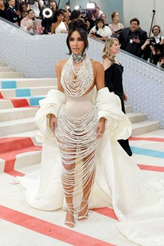 2. Jared Leto
Leto was one of the few who had an outfit change this year. His first was a life-sized cat costume of Lagerfeld's Birman cat, Choupette. His second outfit had a beautiful cape with bejeweled shoulder pads. 
      3. Jenna Ortega
This look was created by Thom Browne. This beautiful black and white corset gown fits her recent "gothic" style.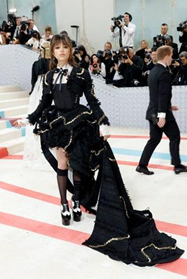 4. Anne Hathaway
Anne's strapless Versace gown was a classy showstopper. She also included pearls as "safety pins" on her dress as an homage to Lagerfeld.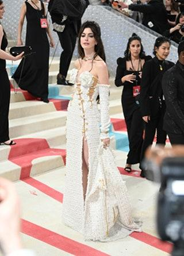 5. Mindy Kaling
This glamorous dress was a creation of Jonathan Simkhai. She paired this sparkly dress with diamond flower fringe earrings. This dress, while remaining true to the theme, stood out against the common black and white outfits.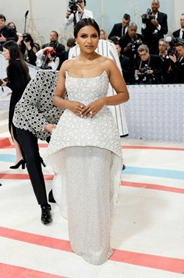 Photo credits: Vogue
Leave a Comment