Titans Connect Prom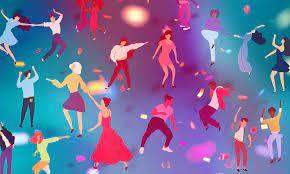 Each year high school students stress over the always big and overdone event: prom. However, most students take a look around a notice only those who have spent hundreds of dollars, took hours to get ready, and showed up to dance all night before a weekend away with their friends.
This is where the ultimate event comes into play— Titans Connect prom. A night when all kinds of students are welcome to have a good night full of dancing and singing and food and friends. On April 21, 2023, from 6:30-8:30 their prom will be the highlight of many students' schoolyear.
The airport lobby will be filled with tons of decorations representing their theme of…. BEACH DAY! So, bring your grass skirts, sunglasses, and don't forget your sunscreen.
Students will have a night of dancing brought to us by our DJ, Cookie, a night of eating brought to us by local restaurants, a night of picture-taking brought to us by our photo booth and photography students.
Everyone will be able to enjoy a slice of pizza or some Chic-fil-a nuggets or even some Kona Ice. Senior Joseph remembers prom last year from the "dancing and the food"
Centered around dancing, prom second most-popular event is picture taking , therefore the ever-popular balloon photobooth is back in action. Not only will this capture memories from the night that we can hold onto forever, but it will transport you to the beautiful beach paradise were all yearning for.
Prom can be such a stressful time of the year; however, that is exactly what we are trying to avoid. Dress to your own comfort level, Mrs. Valts, CB South special education teacher advises, because this event should be anything but uncomfortable.
Our main goal is to showcase the amazing relationships this club has created inside and outside of school. It also allows those students who aren't always the center of attention to be the center and feel on top of the world all night long.
Months of preparation go into planning this event that "highlights how wonderful everyone is" says Mrs. Valts. This dance is not about the fashion or trying to fit in with everyone else.
Again, Mrs. Valts showed us that "you're able to be yourself no matter who you are" because Titan's Connect is all about the great friendships that have grown through the time spent together. Whether you have been dancing for your entire life or you have never popped and locked a day in your life, you for sure will be pulling out the craziest moves on that dance floor.
Last year we held our first prom since Covid-19. Our magical red carpet themed night was deemed the best prom since the very beginning. Over 150 students, friends, and family members showed up for a 2-hour long dance party.
Senior Gabby DeVito described the prom as "better than the junior prom itself," which proves how carefree and magical an event can be when your focused on others around you. Coinciding with Titans Connect council member Olivia Carroll's memory of "forgetting about everything else that was going on and focusing on dancing and singing."
This year were on the way to elevate the prom and turn it into a dance that holds a legacy and will be carried on for many years.
Titans Connect is open to anyone who carries the traits of selflessness, kindness, and overall friendliness. For this reason, we are looking to keep up with last year's 150 head count by invite-only.
Striving for a night to remember, we want everyone involved to be energized to the max. Members of Titans Connect express over-the-moon excitement through constant chatter for the event. Preparation has already started as students are starting to plan outfits and friends to take pictures with and of course picking out their signature dance move.
This event is going to be top tier and something you don't want to miss out on. So, if you have connections to the club or even friendships outside of the club, make sure you're on the lookout for your invitation.
No matter who you are, Titans Connect is looking to expand the CB South community into being more exclusive. So, make an effort, make a connection, make a difference.
Leave a Comment