The Eagles Loss to the Commanders: How the Commanders ended the Eagles' perfect season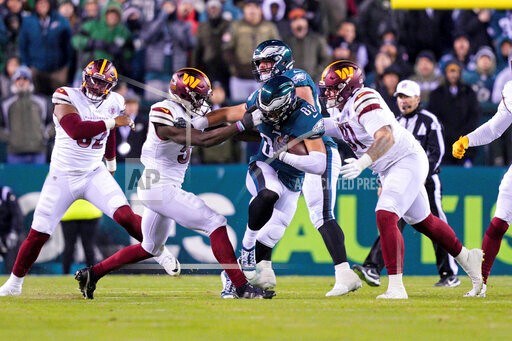 On Monday night, a shocking loss to the Washington Commanders ended Philadelphia's undefeated start to the season. Despite an overwhelming majority of predictions regarding a Philadelphia win, the Commanders came away with a 32-21 victory at Lincoln Financial Field. The question now stands: How did Washington, 4th in the NFC East, pull away with a win against one of the highest-ranked NFL teams of the season?
Breezing through their first eight games, the Eagles were undoubtedly confident starting the night. However, Monday consisted of an uncharacteristically sloppy start, with multiple turnovers and a lack of control over the clock.
Washington forced four turnovers against the Eagles, one more than the previous three made all season by Philly. Considering the pristine plays in this season's previous games, it was jarring to witness sloppy mistakes from the Eagles that resulted in a loss of possession.
Turnovers included an interception from quarterback Jalen Hurt when he threw a deep pass to A.J. Brown and a fumble from wide receiver Quez Watkins. These easily avoidable mistakes contributed greatly to Philly's first loss.
The Commanders were also in full control of the game. Washington held possession for 40:24, more than double the Eagles' time of possession, 19:36. While the Commanders only averaged 3.1 yards per attempt, they carried the ball 49 times, building a highly effective rhythm. The Eagles' defense seemed to have no response, with the absence of rookie defensive tackle Jordan Davis contributing to their unusually weak defensive plays.
Despite a lack of impressive performance from the Eagles, one must wonder if there was another reason for their loss. Several questionable calls against Philadelphia seemed to alter the direction of the game.
Early in the fourth quarter, Hurts completed a pass to tight end Dallas Goedert, a pass that should have been a first down. However, the play resulted in a turnover when Commanders linebacker Jamin Davis blatantly pulled Goedert's facemask, allowing the ball to be knocked loose when Commanders John Ridgeway hit Goedert.
Despite the obvious penalty, it was not called, and the ball was turned over to the Commanders. Referees claimed the face mask was not seen, and the lack of the 15-yard penalty against the Commanders completely shifted the mood of the game.
A later personal foul on Graham, Eagles defensive end, for hitting Commanders quarterback Heinicke, who kneeled so he could be ruled a defenseless player, sealed Philly's loss.
Even after this disappointing game, the Eagles move forward positively, crediting Monday as motivation to work harder for another win to tack onto their 8-win season.
View Comments (1)