Pennsylvania's General Election; Are you Registered?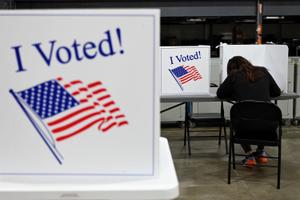 As the elections on November 8th, 2022, are fast approaching, many of us may be turning 18 or have turned 18, but still may not be registered to vote.
Maybe it's because you don't know how to, or because you think it's not that important. (Spoiler alert: it is important!)
But don't worry, I'm here to help.
First, why should you vote?
These elections coming up are Pennsylvania's general elections. On the ballot will be the candidates for Governor and Lieutenant Governor, U.S. Senate, U.S. House of Representatives, Pennsylvania State Senate, Pennsylvania House of Representatives, and Special State Legislative.
Although this is not the presidential election, it is still just as important. Your vote is your voice; voting is meant for you to be heard at a local, state, and national level. Being in high school does not mean that our representatives will not impact you. These are the people that represent you in our state and federal government.
They are there to listen to you, to inform you, and to earn your trust. Who you believe will do that is the candidate for you.
Learning about a candidate is as easy as checking out their social media pages, going to their campaign sites, even emailing their campaigns to ask questions you cannot find answers to.
So, if you are 18, you should consider registering if you are not already.
The registration deadline to be eligible to vote in this election is October 24th, 2022, which is just over two weeks before November 8th.
And registering to vote is easier than many think it is.
If you are more of a paper and pencil kind of person, all you have to do is print this form. From here, you complete all necessary information and then mail it to your local election office. You can also go to your local election office and fill this out there.
Otherwise, you may register to vote online if you have and can provide a Pennsylvania ID. Go to PA voter services and fill out the online registration form. Your signature on file at PennDOT will be sent to your county voter registration. If you cannot provide a PennDOT number or if PennDOT cannot verify the information you put on the online form, you can upload a digital image of your signature to submit with the voter registration form. If you are unable to provide a signature or do not have a Pennsylvania ID, you can still register to vote by mail.
If you are not yet 18 but will be 18 within 30 days of the election, you can still register now and be eligible to vote come elections.
You can also request a mail-in ballot while you are registering if you think you will not be able to make it to your local polling center from 7 A.M.- 8 P.M. on November 8th.
Something as easy as 1 2 3 can make a huge impact in your life, your neighbor's life, your family's life, really everyones life.
So, if you are going to be eligible to vote in the 2022 Pennsylvania general election, consider registering to do so. Your vote truly does count.
Leave a Comment