Model United Nations; Back and Better Than Ever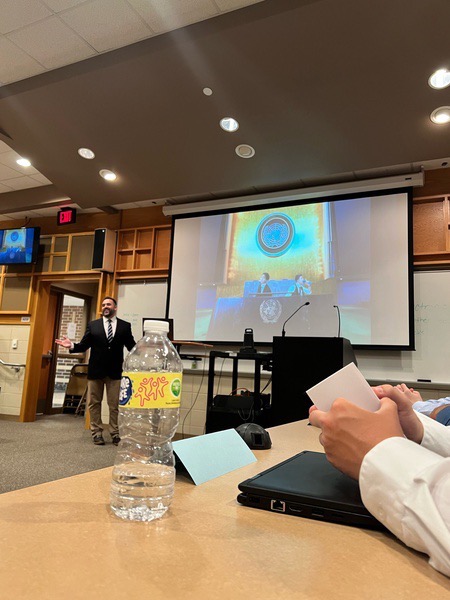 On May 31st, 2022, the CB South World Affairs club held the first Model United Nations since the 2017-2018 school year.
In addition to students from all three Central Bucks high schools spending the day here at South, students from four out of five middle school participated as well.
Each participant received a specific country that is a member state of the United Nations and was tasked with writing a resolution that is relevant to the specific committee they were assigned to.
The committees reflected the first three on the UN: disarmament and international security, economic and financial, and social, humanitarian, and cultural.
Students spent the day with their specific committees introducing resolutions and having scholarly debates to make decisions on whether or not they would pass and be shown to the general assembly. This was done using parliamentary procedure which allowed for everyone to have a voice.
The general assembly met right after the breakfast that was catered by Village Bagel and held in the CB South library, as well as right after lunch where resolutions that passed within their committees were presented.
The assembly was held in the forum room, like the United Nations forum, though a bit smaller.
The success of the 2022 Model UN can be attributed to club advisor, Mr. Smith, and club leaders including President Anshul Shukla, as well as Disha Dhananjay, Sean Burke, and Ty Murray.
They began planning this after Model Congress, which was at CB East this past December and did a great job at bringing a large group of people with common interests together to have an awesome day.
The whole idea of Model UN is to pretend as if it is the actual United Nations. To do just that, the officers put together a multiple activities and opportunities for people to thoroughly act as their specific country would in response to different things. Such as an emergency that alerted every member state that China has began to invade Taiwan, and the goal was to solve it the way the UN would solve it.
Overall, it was an extremely interesting day that enabled everyone involved to meet new people, as well as learn from them.
Model UN is not something you are going to want to miss out on next year, it is back and its better than ever, so keep an eye out for updates about the World Affairs Club and the great opportunities it brings.
Leave a Comment