An Unexpected Aggression: The Slap
When one thinks of the word "Oscars," what is the first thing that is projected into their mind? Celebrities receiving awards for specific pictures they starred in? A theatre loaded with thousands of people expecting awards? Actors and actresses sobbing when they come on stage to receive their awards?
This year's Oscars is remembered to be far more significant than that, as a famous actor committed one of the most audacious actions ever put on live television. On the night of March 27, 2022, thousands of people had filled the Dolby Theatre in Los Angles for the 94th Academy Awards ceremony. Little did they know, they were set to witness the one event which would later spark major controversy amongst fans all over the world.
Around 10 pm that same night, a famous actor/stand-up comedian known as Chris Rock went up on stage to announce the Best Documentary feature. Before he did, he started cracking jokes about various actors and actresses that were in the audience. This included famous actor Will Smith and his wife, Jada Pinkett Smith. When making a joke about Jada, Rock says to her, "Jada, I love you, G.I. Jane 2, can't wait to see it, alright."
Chris's remark originated from a 1997 film titled, G.I. Jane, which tells the story of a woman named Jane with a shaved head that joins the US navy. Jada Smith had suffered from a condition known as alopecia areata, which is when the immune system attacks the hair cells, causing many bald spots to be present on the scalp. Although Will Smith had initially laughed at the joke, his wife had responded by giving Rock an eyeroll, indicating that she was not amused by his remark. A few seconds later, Will Smith approached Rock on stage and slapped him right across the cheek.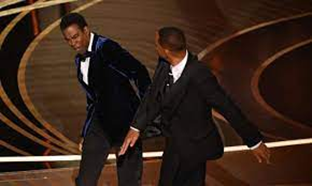 Source- The Guardian
At first, most people watching it assume it was staged. However, as soon as Smith started to yell profanities at the comedian (which had been censored as it was live), it had been apparent that the whole event had not been scripted or pre-planned. Despite the shocking incident, the Oscars had carried on that night, even awarding Will Smith Best Actor in a Leading Role for his portrayal of Richard Williams in the movie King Richard.
Aware that thousands of people had been watching and judging him for what he did to Rock, Smith had no choice but to address his actions in front of everyone, stating, "In this time in my life, I am overwhelmed by what God is calling on me to do and be in this world. I would like to apologize to the academy. I would like to apologize to all my fellow nominees."
The very next day, Smith had posted an apology on his Instagram page, stating, "I would like to publicly apologize to you, Chris. I was out of line, and I was wrong…. I deeply regret that my behavior has sustained what has been an otherwise gorgeous journey for all of us."
That very week, the slap at the Oscars had been on the front page of almost every newspaper around the country. Details about the event spread rapidly across social media, including YouTube, Instagram, Tik-Tok, Twitter, etc. As time went on, more details about the slap emerged. Before the Academy had awarded Smith, the LAPD had prepared to arrest him for what he did. However, Rock, afraid that they would make the situation worse, decided to not press charges. Additionally, there has also been a leaked video of Jada laughing after Will Smith hit Chris, implying she had been supportive of her husband's action.
The actor's reputation and career had started to go towards a downward spiral. According to a poll by YouGov, over 61% of Americans had gone against what he had done, proving that his actions had damaged his public perception significantly. One week after the incident, the Academy had announced that it would ban Will Smith from the Oscars and any other event for ten years.
Despite this, the decision would not prohibit him from being nominated for any awards nor would it strip him from what he had earned that night. Most of Smith's future projects also would still carry on, despite being delayed. This includes Emancipation, Big Boys 4, and Aladdin 2.
The relationship between Jada and Will had been extremely complicated for the past few years. In one of the episodes of the Red Table Talk show, Jada had revealed that she had cheated on him with August Alsina while the two were separated. Despite Jada's actions, Smith has repeatedly shown his love and loyalty to her. Many people, therefore, believe that he had slapped Rock due to the pressure Jada had given him to defend her. Their toxic relationship became more apparent when a video was leaked of Will Smith telling Jada, "I would say don't just start filming me, without asking me." Jada still continued to do so, knowing that he would let her do anything for her even if it would potentially harm his career and privacy.
Leave a Comment