April is National Poetry Month!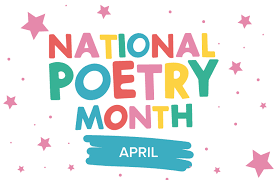 Poetry: the enemy of bored high schoolers worldwide since 15000-13000 BC.
When people think of poetry, they think of something to be read monotonously in English class or a dramatic performance waxed between starry-eyed lovers. In recent years, however, poetry has evolved with the times. From poetry slams to Instagram poets, poetry has taken a modern turn. Now is the time to celebrate it, in April, the national month of poetry!
What is National Poetry Month?
National Poetry Month is a celebration of poetry that takes place during the month of April. According to Poets.org, it is the largest literary celebration of the world. Every year, millions of readers, poets, students, and teachers contribute to the honoring of poetry and its impact upon culture and society.
When and why was National Poetry Month created?
Taking inspiration from the past successes of other celebrated months including Black History Month (February) and Women's History Month (March), in 1996, The Academy of American Poets established National Poetry Month. With the help of government agencies, poets, and art organizations to bolster support, National Poetry Month aims to encourage support for both poets and poetry, honor the legacies of poets, and draw attention to an
otherwise generally unnoticed topic.
How is CB South celebrating National Poetry Month?
Within CB South's own Writing Center, writing center director Mrs. Tannous, has already begun to cultivate participation in the poetry movement. A Poet Tree with poems on its leaves found in the corner of the room provides students with a place to contribute and gain from the poetic experience.
The Writing Center has recently hosted an open mic for all those willing to share their literary works, not just poetry, with a live audience. Those who missed out on the last event need not be disappointed: another open mic will be held in late April for any other interested individuals.
What can you do celebrate National Poetry Month?
Writing poetry might not be for everyone, but that does not mean it's any reason to be discouraged. Poets.org has created a list of 30 things you can do to celebrate National Poetry Month, the link to which can be found below. From celebrating poets that you know to supporting organizations or experimenting with your own poetic style, National Poetry Month is a time to get creative. Don't be afraid to step into the world of poetry, even if it means stepping out of your comfort zone.
Check out a poetry book or watch a video featuring a poet. Subscribe to poetry podcasts or read about your state poet laureate. Poetry is more than its connotations, so take some time this month and learn a bit more about poetry! Who knows? You just might learn to like it a little more than in English class…
https://poets.org/national-poetry-month/30-ways-celebrate-national-poetry-month-0
You can also contact Ms. Tannous if you have any questions at [email protected]
Leave a Comment