CB Civil Wars: A Look to the Future or Relinquishment of the Past?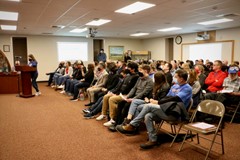 School districts across the country are struggling, especially Central Bucks School District. Transphobic and racist comments, fights breaking out over mask mandates, and antisemitism have been more frequent in the last two years than ever before.
Central Bucks caught the eyes of The Daily, a NY Times podcast. The Daily posted two 30-40 min episodes called "School Board Wars" regarding Central Bucks School District in November.
The Daily is hosted by the New York Times correspondent Michael Barbaro. The primary journalist reporting on CBSD was Campbell Robertson, a national correspondent for the NY Times.
He was on the podcast and talked about his own findings regarding the school district and school board. People across Bucks County have listened and are wondering how our community became a headline in the NY Times.
Robertson said he had been reading how tense civic meetings were getting recently and how it is "not just school board meetings." There were many national reports being done, but he said that was "after the fact," clarifying that he saw good local reporting by people who were at the meetings but hadn't seen any national reporting by people who attended the meetings.
This urged him to "sit in on the meetings and get the sense of what it was like inside, and was it being reflected accurately in these national writeups," Robertson explained. From there, he started looking at districts where there was contention and conflict.
"I called someone from the Pittsburgh suburbs, who then called someone from Montgomery County, who then recommended Central Bucks," Robertson said. He flew across the commonwealth in early October and attended a CB school board meeting.
"Feelings were intense," Robertson said regarding the meeting he attended in October. While at the meeting, "a big story about school board meetings had gone up" on the NY Times. "I thought, wow, a lot of people are doing school board stories, maybe they are not going to want this," he said.
However, he realized he hadn't read a story including perspective from the school staff. This includes nurses, education assistants, and custodial staff as well as teachers. He wanted to speak to these folks and learn "what it's like doing these jobs" and how at these meetings there is "all this stuff to do and no one is talking about it," he said.
Robertson said, "I talked to more than two dozen people," including support staff and even teachers. "At first I wanted to do it more on the support staff, but teachers were more willing to talk on the record for some reason."
"Everyone wanted to talk," he said, but not on the record. "Going on the record is different," Robertson said. "They see how intense these meetings are and don't want to be in the middle of that."
"I can't emphasize this enough for people who felt embarrassed [to speak out]: "none of these problems people are describing are unique to Central Bucks," Robertson said. "It's just really hard right now in schools across the country."
As Robertson was working on this story, The Daily, approached him. "We heard you are doing something on school boards can we do some episodes on it," Michael Barbaro said.
Robertson told them what he was working on, to which The Daily replied, "we want to do something bigger." The process of "School Board Wars" actually happened backwards. The Daily's approach focused more on "the politics," Robertson said.
"You had this real frustration over these school issues and then you had folks with a whole lot of money who were like let's use my resources to turn this into political action… and it worked in a lot of places," Robertson explained. "This is where Central Bucks becomes not just a Central Bucks' story, but a national story."
Many people from all over the country sent Robertson emails saying that these things were happening in their own school district. Even teachers and students in CBSD listened to Robertson's work.
CB South Junior Bella Schute heard to the podcast. "After listening to the podcast about our district, it was kind of embarrassing that we got picked," she said.
"[However] I thought it was really good that teachers were able to speak upon this issue and stick up for the schools in general," she added.
Bella also thought it was interesting to learn more about what was going on in her own district, especially, "the political impact and the staff shortages and what is being done about them."
Señorita Gray, a Spanish teacher at South, also listened to the podcast. "I was glad that they shined light on this issue that we are having because we are not alone, we are not the only school district in this position," she said.
However, she did note that they left important things out regarding all of the confusion back and forth between the Bucks County Health department, the CDC, and the PA Health department, when all Señorita Gray is trying to do is "keep students safe," she said.
Not only was she glad the podcast brought light to many issues, Señorita Gray said, "I think I was like traumatized" since everything from the past two years was all summed up in two 40-minute episodes. Gray shared that she believes there has been a concerning change in the past six years from the public thinking that they know what goes on in school buildings more than the educational professionals do.
"People have inserted politics into public schools," said Señorita Gray. "Literally they have put public education students, teachers, support staff, and admin right in the middle."
Mrs. Betsy Coyne, a Family Consumer Science teacher at Lenape Middle School, was included as one of the primary sources in the podcast. There she talked about how hard it has been teaching students when there is a lack of teachers in the school.
Señorita Gray, who applauded Mrs. Coyne for speaking the truth, said there is "a bigger teacher shortage than before Covid." The lack of teachers and overall staff coincides with all of the chaos throughout the district and has made existing problems so much worse.
"When people start to distrust educators, this is what happens: nobody wants to teach, nobody wants to be involved in this chaos," Gray explained.
Señorita Gray is not sure how the district will become as structured as they were when she first started teaching in CBSD in 2001. She said, "I hope that [the podcast] shines light at how crazy and how ridiculous things got, and I hope that people who were involved in that directly and who created chaos see how misguided they were and how awful what they did was for public education."
Throughout his reporting, Robertson said he really wanted to show how "everybody is now so fixed on what they think about everything, it's rewarding to scramble that for folks, these things are more complicated and harder than you think on all sides."
"I wanted to do a piece that even if people don't like it, it was fair and accurate," Robertson said.
The podcast brought forth many unexpected emotions from teachers and students in the district. It is an eye opener for many to see how chaotic and harmful the district has gotten. Señorita Gray said and would like people to understand "we are not the battleground for your politics."
Leave a Comment