Adult Fall Book Recomendations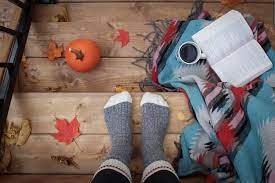 Want something to read with a bit more substance, something a bit more mature with heavier topics but still keeping the fall vibe? Then check this list out!
1. The Night Circus by Erin Morgenstern
Tags: magic, romance, whimsical, fall
"The circus arrives without warning. No announcements precede it. It is simply there, when yesterday it was not."
The Circus of Dreams is simply that: a world made for dreamers. To the unsuspecting visitors of the fast-moving and mystical event, the circus is just a place of reverie where things from your wildest daydreams come to life, a place whose bewitching atmosphere many have amounted to mere acts of illusion and trickery. Behind the scenes, however, the circus is a venue for a competition of magic, real magic, between two young magicians who have each been trained to overtake the other. Over the years, however, they begin to fall in love with one another, yet the competition declares only one winner so their love cannot last…or can it?
TW: Parental abuse
2. If We Were Villains by M.L Rio 
Tags: Mystery, Thriller, Suspense
The Hero, the Villain, the Tyrant, the temptress, the Ingenue, and the Extra. Playing the same roles in and out of the spotlight, nothing could tear this group of Shakespearian actors apart. They were rivals that morphed into a family, and no amount of jealousy could break that bond – well, almost no amount. 
By the time Oliver Clarke is released from jail, it has been one whole decade since his fourth-year performance at the Dellecher Classical Conservatory met a tragic end. No one knows what happened that night — no one knows who caused the curtains to close before the hour hand struck dawn. That is until Oliver's release date, where he is met by the very man who put him behind bars: Detective Coulbourne. Coulbourne has pondered plot points and miscalculated missing timelines for as long as his sanity would let him. He wants to know the truth, and after ten years, Oliver is finally ready to tell it. 
The Hero, the Villain, the Tyrant, the temptress, the Ingenue, and the Extra. Follow this group of wide-eyed students as their competitive spirt bleeds violence into their theatrical world of make-believe. 
Take your moment in the spotlight with M.L Rio's If We Were Villains. This eccentric play on jealousy and honesty is exactly what you need to make sure your latest performance won't be your last — End Scene. 
TW: death, depression, violence/abuse, drug overdose, homophobia/transphobia, murder, PTSD, sexual content
3. Vicious by V.E Schwab
V.E Schwab has written magnificent tale after magnificent tale and Vicious is no exception. Creating a stark comic-book-style universe, written in vibrant prose, Schwab paints an unconventional portrait. One where superpowers do not necessarily make someone a hero, and where loyalties are constantly questioned. 
Victor and Eli's paths first intertwined as college roommates. They were mirrored versions of each other and got along swimmingly. During their senior year, a shared research interest in "supernatural" events   expose a fascinating possibility: if placed under the right conditions, someone could develop supernatural powers. It isn't until the pair attempts to translate their theory from paper to person that things go terribly wrong. 
Flashforward ten years, Victor escapes prison and is ready to reconvene the last meeting he had with his old friend (now foe). Meanwhile, Eli is on a quest to eliminate every other super-powered person he can find – all except his partner, a puzzling woman whose reserved nature disguises a dazzling ability.
Propelled by the memory of betrayal and loss, the enemies have set a plan for vengeance. The goal isn't to make it out alive, but simply to not let the other have the last move.
Blurring the lines between hero and villain, Schwab leaves every reader questioning their placement on the spectrum of good and evil. Check out Vicious this spooky season!
TW: blood (graphic), death, gun violence, sexual assault, drug/alcohol use, murder, self-harm, panic attacks
4. Where The Crawdads Sing by Delia Owens
Tags: Coming of Age, Fiction, Literary, Women, Prejudice
Rumors spread like wildfires, scorching all they touch, consuming the lives of all involved. Without proper caution, rumors can shape people's opinions to a prejudicial degree – one that burns hotter than any fire. 
For years, Kya Clark, the "Marsh Girl", has been the prime subject of all things gossip in her quiet coastal town. So, it's no surprise in 1969, when town sweetheart Chase Andrews is found dead, and all fingers point to blame Kya. However, Kya is much more than the town shrinks her to be; compassionate and clever, she is a survivor befriending wild species in the marsh she considers home.  When Kya decides to open herself up to a life beyond the marsh and friends beyond the gulls, the result is indescribable. 
Where the Crawdads Sing is a poignant tale with an exquisite design. Straddling two different timelines that ultimately fold into one another, Owens transcends readers expectations of what a little "small talk" can create. 
While on the subject of gossip, a little gull told me this book is not one to miss!
TW: alcoholism, attempted sexual assault, abuse, racism, child neglect, death, murder, self-harm
5. Ninth House by Leigh Bardugo
Tags: paranormal, spooky, magic, dark academia, murder mystery
Lovers of dark academia, the paranormal, and spooky books look out! Ninth House by Leigh Bardugo is about to dominate your shelves! 
Knee-deep in the academic competitiveness of Yale, Galaxy "Alex" Stern is the anomaly of her freshman class. A high school dropout, she was offered an opportunity to start a new life at the prestigious college and leave her traumatized past behind her, but with one main purpose: to oversee Yale's secret societies. Each private "house" manages a different kind of arcane magic, one they've worked for decades, but behind their dazzling facades, they hide dark secrets. As murder and mystery alike intertwine before Alex's eyes, with the help of unlikely allies, she must begin to look closer at the shadows that plague.
TW: sexual assault, abuse, blood, substance abuse, murder, violence, self-harm
Want a New Release?
Check out The Ex-Hex by Erin Sterling
Although neither Olivia nor I have read this selection, we wanted to offer all we had! The Ex-Hex is a fresh romantic comedy where a small-town witch is faced with a problem. Nine years ago, Vivienne Jones got over her ex the only way she thought possible: by putting a curse on him. Of course, Vivi is aware she shouldn't use her spells this way, but it was a dollar tree candle, not rearranging the stars. Nothing extravagant was supposed to happen – a bad hair day or the bottom of his shoe decorated in gum – that was all. But when her ex returns to town, kicking off on calamity after another, Vivi realizes her silly little Ex Hex may have been less innocent than she thought. 
Get ready to swoon, laugh, and squeal this Halloween season with this spooky take on your average romance.  
Leave a Comment