Warrington Motorsport Family Honored with Historic Plaque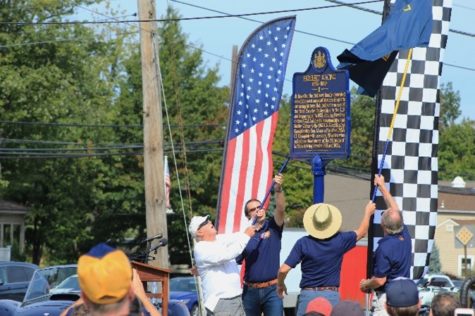 On the balmy morning of October 2nd, 2021, thefirst ever state historical marker in Warrington, Pennsylvania was unveiled. The plaque commemorates Holbert Racing, the racing family native to the area who ran an extraordinarily successful team that made its mark in the history of motorsport.
Holbert Racing began in 1953 when Bob Holbert entered his first race, Sports Car Club of America (SCCA), driving an MG TD roadster. Bob went on to win four SCCA National Championships, open one of the first Volkswagen/Porsche dealerships in America, achieve first in his class and fifth overall at the 24 Hours of Le Mans, become a Sports Illustrated Sports Car Driver of the Year, and win the U.S. Road Racing Championship before he retired.
One of Bob's sons, Al Holbert, followed in his father's footsteps and went into racing as well. Al achieved great success, winning five IMSA GT Championships, achieving three victories at 24 Hours of Le Mans and two at 24 Hours of Daytona, and getting inducted into both the Motorsports Hall of Fame of America and the International Motorsports Hall of Fame.
Two hundred and thirty-one people attended the dedication ceremony for the historical marker. As part of the event, Larry Holbert, the son of Bob and brother of Al, and Todd Holbert, the son of Al, made speeches, along with representatives from the Warrington Historical Society and the Pennsylvania Historical & Museum Commission.
Kim Tarasiewicz, cousin of Al Holbert, said of the event: "It was pretty amazing. It's just amazing that they were recognized, because my uncle Bob and Al were super humble people and I don't think they really appreciated how famous they were and how well known they were. I mean, the Andrettis, the Unsers, those big car racing teams and all, were flashier, but they [the Holberts] were just flying under the radar. They really did just do their thing. They won their races and moved on. They were all about the sport."
She added, "I was amazed at how many people dug things out of their closets that were from the 1970s. And the racing, I saw hats and patch jackets and lanyards that had like I had never seen, I mean I had seen, but not for a lot of years… And people were so generous with their words and with their thoughts and how excited."
She continued, "Even the entire Holbert staff, like all the young men and older men that had worked, not even for the race team but at the dealership, like at the Porsche dealership for years and years, came out, so it was just amazing to see the turnout."
"People came in," Kim stated. "We know people who came in from Michigan and North Carolina and California and people from all over the country, so that's pretty impressive. And it was fun to see all the old Volkswagens and old Porsches."
The site of the dedication is an area that holds great importance for the Holbert family. On the corner of 611 and Bristol Road, the family used to run a general store. "That general store was a gas station, a post office, the store," Kim said. "You went there to buy everything."
After Kim's great-great-grandparents closed the general store, her uncle, Bob Holbert, began an auto mechanic garage across the street and her father founded a hardware store in the nearby shopping center.
"So, I just feel like that corner and that area has always been like our center, our home center, and that's where we grew up, where my mom used to roller skate in the general store on Sundays because it was closed. That was their home and that's where they grew up," Kim remarked.
Kim grew up in the world of racing as she and the rest of her family supported their family in their endeavors. Racing was a large part of her childhood and her relationship with her family.
"When we were kids and walked into my uncle Bob's house, to the left was an entire room of trophies," she reminisced. "It was all behind glass and it was very special. We had to be really careful in there because everything was breakable."
Her uncle, "came to every single race [of Al's]. He was on the pit crew. He was Al's manager. He was always there, he did everything for him."
While she was a bit too young to attend her uncle's races, Kim often came to her cousin's, especially the more local races in the Poconos, New York, and Connecticut.
She said, "We would drive and spend the weekend at racetracks. I remember the big deal was that when you hit a certain age, you could actually get into the pits. We got pit passes when we were old enough and we were allowed to get into the pits and really see the whole race completely different – sitting in the grandstands is completely different than sitting in the pits and watching them change the tires and do all the crazy stuff."
"The one biggest memory was when I was a sophomore in college and my parents called and said, 'We have good news and bad news. We're not coming to your parents' weekend for your sophomore year.' And I said, 'Is that the good news or the bad news?'" she laughed. "And they said 'Well, it could be either, but what we want to do is go to a race in California and we'd like you to come with us.' So, they flew me from college out to the race and I met them out there and instead of going to parents' weekend, which was one of four so it was okay to miss it, we went to a race in California that was pretty amazing and spent some time there. It was great, it was Laguna Seca, and he [Al] won."
"I mean he really did, true to the plaque, he really won most of the races he was in," Kim said.
She recounted another story from when she was in college. Her entire family had gone up to Connecticut to watch one of Al's races and rented rooms in a large hotel where they were all staying together.
"But on Saturday, at the last minute, he actually entered the Indy500 in Indianapolis and that ran on Saturday," she explained. "We'd all driven up to Connecticut to see him race on Sunday. We were in the hotel all together and we watched him race and place fourth in the Indy500, which was amazing as a first time – he had never raced it before – and then he flew to Connecticut and raced the next day and won and we were all there."
She continued, "But it was so crazy, because it was a whole weekend of racing, but it was the Indy500 so it was a big deal."
Along with attending numerous races, Kim also got to meet the actor, director, and racecar driver Paul Newman through her cousin. She said, "Al was really good friends with Paul Newman and taught him how to race. Paul Newman used to buy his cars in Warrington from the Warrington Porsche place and they became good friends and one time, well several times, we got to meet Paul Newman at the races."
Al Holbert not only wanted to excel in his sport, but to better it in his own way.
"Al actually started churches at the racetracks so the race car drivers could go to church on Sunday before the race or Saturdays before the race," Kim explained. "He actually set that up. He had pastors at all the places that they could have a little church or a little chapel that they could go to. And that was one of his things, that was one of his gifts and that was important to him."
However, the Holbert racing dynasty came to an end due to a tragedy. On a race weekend, Al had been flying himself home in his plane to take his son to a football game. He planned to fly back in time for the race, but he unfortunately never even got home as he tragically died in a plane crash.
Kim said, "He was all about family. He was a family guy. He was a famous racecar driver, but it was important to him to come home and take his son to a football game."
Al had been the president of Porsche Motorsports of North America at the time.
"He was in charge of all of the racing in North America, so all of the racing on this continent. And he was flying everywhere, doing everything, but it was based out of here still. Everything was running out of little old Warrington," Kim said. "Then he was killed in a plane crash. My whole family worked for the race team so when he was killed, pretty much my whole family lost their jobs."
After Al's death, the line of Holbert drivers ended. His son did, however, join the sport as a race engineer.
"It kind of fizzled out after that unfortunately. We would've welcomed it. I mean, we just grew up with it and it was part of us. It was part of our lifestyle. It's what we do. We do racing in my family," Kim remarked.
The Holbert family had an indelible impact on motorsport. From their garage here in Warrington to the races participated in across the globe, their passion for racing supported an incredible legacy of racecar driving. Now, on the site where their garage once stood is a testament to their historical contributions.
All photo credits: Holly Mirales
Leave a Comment