Homecoming Week Announcements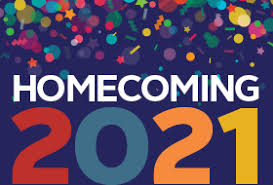 Homecoming week starts on Monday, October 18! Let's get excited!
Homecoming 2021 Spirit Week
Mon. 10/18 – Pajama/Comfy Clothes Day
Tues. 10/19 – Tacky Tourist
Wed. 10/20 – Sports Jersey/Favorite Team Apparel
Thurs. 10/21 – Fictional Character Day – dress up like your favorite fictional character.
Fri. 10/22 – School Colors – Seniors (Black), Juniors (Blue), Sophomores (White)
Events:
Friday 10/22: Homecoming Pep Rally (there is an evacuation drill to the bleachers that day too).
Friday 10/22:  Homecoming Football Game- will announce Homecoming King and Queen.
Saturday 10/23:  Homecoming Dance- you can buy your tickets on My Payments Plus for $20. You can also bring a date outside of school, just be sure to pick up a form from the office and fill it out.
Leave a Comment