Return of Fall Fest?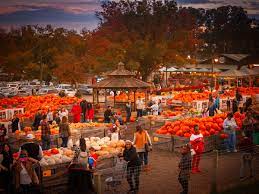 There is a menagerie of festivities to look forward to in fall: football games, pumpkin spice lattes, and sweater weather to name a few. For many, CB South's annual Fall Fest has been one of those significant fall activities.
"It's usually held the Friday of homecoming week," the current director of Fall Fest, Mr. London, says. "It's a great time of year because the weather is so nice."
In the past, Fall Fest was known as Titan Tent Event, until the name changed in 2014. Titan Tent Event was created to develop a South community when the school first opened. Every club would set up a tent in hopes of gaining new members. It was purely a club fair for students wanting to get involved. "[Clubs] aren't under tents anymore," says Mr. London while reflecting on the past years.
When the name changed, so did the heart of what it's all about. Fall Fest was designed to be more than an average club fair.
"I wanted to make it more community driven," says Mr. London as he describes his first year of conducting Fall Fest. "We invited the middle schools and elementary schools to come… It's more of a Fall Fest for our community rather than just a Titan Tent event for CB South."
While setting up tables in hopes of spreading the word of their organization is beneficial to clubs, there's more to Fall Fest now than marketing.
"It's a fall carnival without all the rides," Mr. London explains. In addition to being a club fair, "it has food and opportunities to play different games," says Mr. London.
The clubs use this time to encourage students to join.
"It gets the word out about their club or organization, and they'll often have sign-ups [at their table]," says Mr. London.
This day is especially beneficial for CB South students looking to get involved.
Mr. London says that "people like sophomores, who don't know all the clubs and activities, can come and see what those clubs are."
With over seventy official clubs at South, there's something for everyone. Even students uninterested in joining a club can have a great time, as there are plenty of other activities to participate in. For example, the Art Honors Society applies temporary tattoos and face paint to guests.
Mr. London believes that the fan-favorite clubs are the ones that make food, such as the Spanish Honor Society, who make quesadillas.
"People usually love [visiting] the French Honor Society because they make crepes," Mr. London says. "And the Chemistry Club makes ice-cream."
Although preparing for the big day can take a bit of work, not all work is hard work. CB South clubs spend after-school hours, in the days before Fall Fest, making a scarecrow. The scarecrows represent what their organization is.
"For example, Operation of Eternal Gratitude would often dress [their scarecrow] up in military clothing to show that they represent a club that supports the military," says Mr. London.
It can be a difficult endeavor to plan and manage, though. "The clubs need to get the materials… so it could be tricky to do this year [with clubs meeting less often]," says Mr. London.
Students and staff get to see the scarecrows in the main office's hallway.
In past years, "Students would vote on which was the best." The club that won would receive a monetary prize. That prize money can "be used toward a charity or their club, to be put towards charity."
Although Mr. London enjoys conducting Fall Fest, and getting to see the students interact outside of the classroom, there are no current plans for a 2021 Fall Fest.
Mr. Bui, who's taken House Principal Mrs. Opdyke's place in her leave-of-absence, is "uncertain" of Fall Fest's future. Mr. Bui explains that CB South alumni, Jonah Snyder, had helped conduct Fall Fest the last few years. Now that he's graduated, the position remains empty. If a student were to ask whether or not we can expect a Fall Fest this Autumn, Mr. Bui's response would be that "it's not a no."
According to Mr. Bui, the matter is due to lack of leadership. If anyone is interested in becoming a leader of a future Fall or Winter Fest, Mr. Bui would be more than interested to speak with them. If not, the fate of CB South's beloved Fall Fest remains uncertain.
Leave a Comment