Eagles Versus Chiefs Week 4
The Chiefs beat the Eagles 42-30 at Lincoln Financial Field in another poor performance from the defense. The defense was clearly tired; they versed the Cowboys and Chiefs back-to-back: two great offenses. However, they allowed more than 40 points in both games and did not get third-down stops.
The Eagles simply were not able to stop Patrick Mahomes on the third down. Even on the third and long, the Eagles allowed Mahomes to scramble for a first down or gave up penalty yards to set up first down. On third and short, they ran the ball, and the defense had no answer.
Penalties were a considerable part of the loss this week. Here are some of the most significant ones that
hurt the team:
Chiefs were third down and six, offsides for five yards making it third and first, easy pickup
Eagles touchdown was negated by an offensive pass interference call
Eagles touchdown was also negated by an illegal man downfield (O-linemen passed the line of
scrimmage on a pass)
 Eagles touchdown negated by illegal touching
Mahomes, sacked for eight yards to make it third and 14, was negated by illegal contact and given better
field position
The penalties prevented the defense from stopping the offense's score and to move the ball downfield. The Eagles could have scored more if not for those negated touchdowns, and it could have even been a win.
Eagles did not punt once; we scored a touchdown or kicked a field goal on every drive. This is a huge step up from what we saw in the Cowboy's game, where we struggled to convert third downs (See my previous review of the Cowboy's game). I don't think we ran the ball enough, but it is understandable. the Eagles were without three starting offensive linemen, then lost Lane Johnson on game-day. Their only remaining starter was Jason Kelce. Sanders averaged 1.9 yards a carry, making it hard for Nick Sirianni to want to run the ball. Jalen was also throwing the ball well and getting first downs.
Jalen Hurts played excellent. Other than a few bad passes, he was accurate and efficient with getting the ball out. I think the Eagles have to commit to the run to relieve some pressure from Hurts, as the blitzes are causing him to force passes. He handled it alright, but eventually, it will lead to bad passes and
interceptions.
However, there is one statistic ALL Eagles fans loved to see: DEVONTA SMITH—122 yards on seven receptions! Devonta Smith had a great game and was synchronized with Hurts. He made some fantastic catches and was great at getting separation and hauling in balls close to the sideline. The only mistake was that on one play he ran deep, ran a comeback route (see image below), and stopped in the middle of the field.
However, Hurts threw the ball deep because it was supposed to be a go route (see image below); the cornerback defending Devonta Smith ran down the field and almost intercepted the ball. After the play Devonta Smith could be seen saying "my bad," and signaling to Jalen that it was his fault.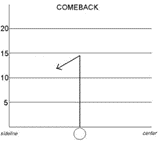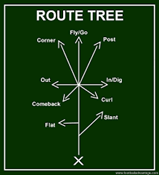 Defense:
Patrick Mahomes threw five touchdowns and 278 yards. The only big play the defense made was an interception in the second half (see video clip below). Still, the offense did not score a touchdown in response and allowed Mahomes to score the next drive.
The major red flag to watch is the defense allowing 200 rushing yards on 32 attempts (6.3 yards per carry). 6.3 yards a carry is too much because that means a team could just run all over us, and we could not stop them. This is a bad sign for the future if this team does not adjust.
I think it is partially on the players but more on the plays. The scheme Coach Gannon runs does not seem to favor well for linebackers in the box. The run defense has caused people to overlook the secondary, who has been good in pass coverage overall.
Fantasy Week Five Projections:
I predict that Hurts will get 26-32 points against the Panthers on Sunday. Getting a total of 387 yards for two touchdowns, Hurts had one of his best games this season.
I predict that Miles Sanders will get 7-10 points this week against the Panthers. Getting 28.18 points last week and averaging 24.8 points through the first four weeks, Sanders did not have a good game last week. Getting 13 yards from seven rush attempts and 34 yards from three receptions, Sanders only got 7.7 points last week. He is also splitting carries with Kenneth Gainwell, who had three rushes for 31 yards and six receptions for 58 yards.
I predict that Devonta Smith will get 16-21 points next week. Smith had his best game this year, breaking 100 yards for the first time. He also had seven receptions for 122 yards. With his improvement in getting separation, Smith will probably get more targets.
Jalen Reagor did not have a good week; he was only targeted once for one catch that resulted in 9 yards and rushed for 12 yards. Reagor has to get more separation compared to the rising stars on the team, Devonta Smith and Quez Watkins, to get more targets. With his lousy week, I predict that he will get 5-7 points this week.
Zach Ertz and Dallas Goedert both did very well this week. Ertz had 6 receptions for 60 yards, and Goedert had five receptions for 56 yards and a touchdown. This shows that they have both been very reliable targets for Hurts. I predict that both Ertz and Goedert will get from 15-18 points.
Expectations for week 5 (Carolina Panthers):
The Eagles played the low flying Chiefs, for Kansas City's Standards, and got destroyed by Patrick Mahomes and Company. The Week One win against the Atlanta Falcons was pretty misleading, considering the poor play that Eagles fans had to witness Sunday.
The Eagles were pathetic on both sides of the football, especially defensively. The Panthers have been very productive, with Sam Darnold connecting with DJ Moore throughout the season. Also, Christian McCaffery is coming back, and the defense is bound to have a dreadful day. The defense gave up 278 yards and five touchdowns to Patrick Mahomes, and three of those touchdowns went to their number one receiver, Tyreek Hill.
If the Eagles' defense wants to improve, they can start by not having penalties; Carolina's offense is bound to score some extra points with the type of penalties committed in the trenches and in the secondary. They need to lock up DJ Moore and Christian McCaffery and keep pressure on Sam Darnold. This defense needs to keep pressure without committing penalties against the Panthers; however, I predict the defense will struggle to keep the game clean.
The Eagles' offense needs to focus on penalties. The penalties committed by the offense gave the game away to the Chiefs. Offensive penalties took 18 points away from the Eagles, points which could have won the game for the Eagles. The Eagles' offense once again shot themselves in the foot on Sunday. With a team like the Panthers coming up next for Philadelphia, the glaring penalties on the
Eagles' offense might determine the game's outcome on Sunday.
The Eagles are in shambles offensively and defensively, especially with the number of crippling penalties both sides commit. The way this team is headed, you would have to be massively biased to confidently think the Eagles could win against the Panthers in Carolina. I predict the Eagles will lose to the Panthers in a 35-21 loss in Carolina.
Statistic credits: https://www.espn.com/nfl/boxscore/_/gameId/401326388
Leave a Comment