Historian Kenneth Davis Visits Virtually With CB South Students
The students in CB South's chapter of the Rho Kappa National Social Studies Honor Society got a special opportunity to engage in a question-and-answer session with esteemed historian Kenneth Davis over a Teams call.
Davis's breakout book was Don't Know Much About History¸ the success of which spurred his Don't Know Much About series. The series includes topics ranging from geography to mythology to literature, amongst many other entries in the expansive series.
Alongside his Don't Know Much About series, Davis has published numerous histories, including America's Hidden History: Untold Tales of the First Pilgrims, Fighting Women, and Forgotten Founders Who Shaped a Nation and In the Shadow of Liberty: The Hidden History of Slavery, Four Presidents, and Five Black Lives.
In 2020, Davis released his most recent book, titled Strongman: The Rise of Five Dictators and the Fall of Democracy, which discusses authoritarianism and democracy through the lens of powerful historical dictators. The book is aimed at young audiences and garnered critical acclaim, being named one of the Washington Post's "Best Children's Books of 2020".
Many of Davis's books have been on the New York Times bestseller list.
Davis has spoken at notable venues such as the American Museum of Natural History, the Smithsonian Institution, and the National Constitution Center in Philadelphia. He has also written articles for well-respected publications such as the New York Times, Washington Post, and Smithsonian Magazine.
Madeline Wanzer, a junior at CB South, was one of the Rho Kappa members who attended the question-and-answer session with Davis.
She asked Davis what mystery of history he would go back in time to discover the answer to, if he could, and Madeline recalled that Davis told her he would go back to "the assassination of Abraham Lincoln to find out what exactly was happening there".
Another student asked Davis what historical figure he would want to fight. Madeline said, "He hoped how in history he would be one of the good people who stood up against tyrannical regimes and that he would be one of the people in Germany who would fight Hitler. He talked about the mentality we can have and what we can learn from history. As we look upon these stories, we like to think we would've been better and made different choices and fought against these horrific powers and terrible peoples, but really, it's our mentalities and our own actions we need to take and remember and do so that we aren't repeating that history of inaction and history of standing by so that we can truly be learning from it. It was more of a silly question, but he had a rather eloquent answer about being an upstander rather than a bystander."
Davis also imparted advice to the students. Madeline said that "when he was speaking about how he made his path through life, he told us about how he never would've predicted that he would've become an author and that he never would of thought that's where he'd take his life,
but he went with the flow and followed his path and found his way, even though he couldn't have predicted it."
Madeline also added that Davis "spoke about how in his childhood, his family would go on vacations to historical sites rather than typical vacation sites. A lot of his love for history and his knowledge came from there, like from his trip to Gettysburg, which was important to me since I've been to Gettysburg, and it was such a harrowing experience, which he spoke of similarly."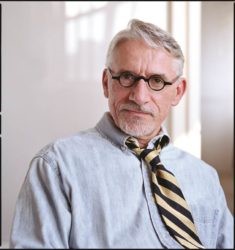 The historian Kenneth Davis. Photograph by Nina Subin.
Leave a Comment