Kids Castle Comes Back
A Doylestown icon known as Kids Castle, a staple in many children's lives, is starting to come back into place after a yearlong renovation.
Inspired by the castles of Henry Chapman Mercer, Kids Castle has brought joy and happiness to children of all ages. This castle is meant for children to play and explore their imaginations using the various obstacles, swings, and slides.
This community-built effort is located in the hills of Central Park in Doylestown. The award-winning playground has attracted not only local families and children but national ones as well.
Hundreds of thousands of children have walked through the gates of Kids Castle over the last 15 years. In fact, Kids Castle just celebrated its 15th anniversary in June 2012.
So many children have spent countless hours climbing and enjoying the castle that the structure started to show its true age. According to the Kids Castle's website, around one year ago, on May 7, 2012, a safety check was in place to assess areas that needed to be fixed.
They soon discovered that since Kids Castle used a pressure treated wood, over the years it started to wear down.
"I always played at Kids Castle as a child, I would hate to see anything happen to it," Alex Dunbar, a student at CB South, said.
Kids Castle was in need of renovation. In fact, 38+ repairs were needed and of those, 28 were necessities according to Mrs. Michele McGroggan, the Community Committee Coordinator for the local high schools.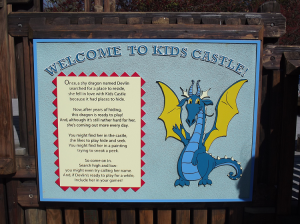 In order to complete this successfully, the Kids Castle Committee needed help; this was not something that was possible without the community and volunteers.
Throughout the renovation process, they had a motto that stated, "If everyone does a little, we can accomplish a lot."
Many people were up for the job and were willing to get the job done — not just adults, but kids and young adults as well.  "Friends of Kids Castle Committee" started a campaign known as "Save Kids Castle" to restore and preserve the Doylestown icon. This campaign immediately took action and began the renovation process.
Local schools got involved as well. "I was really impressed with how the high school students stepped up for the challenge," Mrs. McGroggan said.
Kids from all over helped with the fundraisers and the local events to raise money and save Kids Castle. Students helped with packing eggs for the Easter egg hunt held at the castle and also helped take down and preserve all the original art work on the playground.
All the original artwork is being preserved and took many local volunteers to take down. "I'm truly in awe about how a community can come together," Mrs. McGroggan said.
According to Mrs. McGroggan, it took "tons" of volunteers and local businesses to come to together and make the new and improved Kids Castle a reality.
Some of the businesses on deck for the project were Byer's Choice and Marvic Supply. A lot of the companies donated their "man power."
This new Kids Castle in the making was going to require $150,000 in order to successfully restore and renovate the structure.
There are three phases in order to restore Kids Castle, according to Mrs. McGroggan.
The $150,000 was for Phase One of the reconstruction of the castle. This did not include the price for Phases Two and Three for the construction.
"Friends of Kids Castle" was in need of help from the community and volunteers in order to go through with their plans. Many local volunteers joined the team and were ready to help.
In the first phase, washing and staining the exterior of the structure was completed, along with installing new sides.
In Phase Two, volunteers and workers installed the new playground items surrounding the castle.
In Phase Three, things such as restrooms, a snack stand, and pavilion need to be added. All of these necessities added up. Everything in Phase One came to the $150,000 price tag on the renovation of the structure.
There have been many fundraisers and events in order to raise this money. Some of the fundraisers include "Casino Night," the Easter egg hunts, "Trick or Treating at Kids Castle" and many more. There is also an upcoming holiday event which will help spread awareness about the new Kids Castle.
According to Lauren Sheehan, Chair of the Kids Castle Project, the schools did an "amazing" job helping and raising money for the renovations. Kutz Elementary School held a Dance-A-Thon that raised $7,000.  Doyle Elementary School raised $5,000 which was the final donation that put Kids Castle to their $150,000 goal. "The schools have been great; we would be so far behind without their help," Lauren said.
The reopening of Kids Castle was full of families and children from all over. Over 1,500 people were there that day and the parking lot was full. The reopening included musical acts, a parachute for the kids to play on, a craft station, crowns to decorate, and food trucks.
Some elected officials at the reopening included Robert Lougherty, Bucks County Commissioner,  as well as Marguertie Quinn, PA State Representative for the 143rd district.
There is still more to come as the progression of the final Kids Castle falls into place, and there is much more to be done. Thanks to the community, volunteers, and local businesses, the renovated structure of Kids Castle will soon be complete.
If you would like to become a volunteer or contribute to the Save Kids Castle project, go to savekidscastle.org and sign up today.
Website: www.savekidscastle.org
Twitter: SaveKidsCastle
Leave a Comment