October Apple Event: Part 2
Next up, we will discuss the iPhone.
The new iPhone lineup goes as follows: iPhone 12 mini, iPhone 12, iPhone 12 Pro, iPhone 12 Pro Max.
Apple tried to make a size and price point for everyone.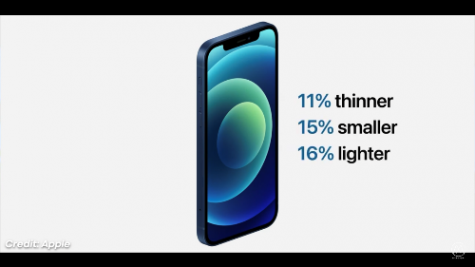 Let us first talk about the iPhone 12. There is a new design; instead of more rounded, it is "flat," as Apple put it.
This design reminds people of the iPhone 4s, and 5. This design will be a bit controversial as some will love it, and some will hate it.
Personally, I love it. I loved the look of the iPhone 5, and people think having this design now makes it feel outdated, but I think the opposite.
This design is like the iPad Pro, and the old design was better and sleeker.
I ran a poll on my social media account to see how many people liked or hated the "new" design, and 52 people responded: 26 said hate it, and 26 said loved it. It was 50-50.
Furthermore, this is something the public is split about.
The new iPhone 12 is 11% thinner, 15% smaller, and 16% lighter than the iPhone 11. This boxy design makes it seem bulkier and heavier, but that isn't the case.
There are a few new elements on this phone, and some pieces I wish they had done.
First, they teamed up with Corning, who make glass, for a new front glass panel called Ceramic Shield. It supposedly is 4x stronger at drop protection than the previous iPhone.
That sounds promising, and if it tests like so in the drop tests done by tech reviewers, it will be a big win for iPhone users.
Corning also makes the Gorilla Glass series for other phones, so Ceramic Shield competes with its brothers.
Also, now all iPhone 12s have a Super Retina XDR display, which is OLED. OLED displays used to be only on the Pro models, and the cheaper LCD on the less premium non-pro phones.
OLED is more flexible and used more because of its power efficiency and thinness. They are also better looking; they display colors better and have better viewing angles.
A big idea they highlighted was 5G, which is something I think they over-hyped.
5G is great, and to bring it to iPhone brings in a whole new market to the 5G world, but not all areas have this coverage.
Phone plans do not include it, and to upgrade to a 5G plan will most likely be costly, which is why Verizon took the stage to talk about the iPhone's 5G capabilities and how Verizon is launching their nationwide 5G plan.
One of the other controversial things Apple did was remove the charging adapter and the wired EarPods from the box.
Now I don't personally mind this.
To be clear, they just removed the brick and headphones, and the charging cable is still there.
I don't even use their adapter with my iPhone, and I don't use their EarPods; I use wireless headphones.
Now some people coming to Apple will see this as cost-saving and cheap.
I think Apple should not have done this as it paints the company in the wrong picture, but they say they did this for environmental reasons.
Their reasons are valid, but I still feel it is a bit of an ominous move. Apple wants to reduce its carbon footprint, and in the past, they have made many decisions to help. According to Apple, certain rare Earth elements they use in their devices they recycle, and since 2008 the average energy consumed by Apple products has decreased by 73%.
Apple says most people already have a charging brick at home, which is valid but seems sort of like an excuse. The iPhone box is also smaller now due to fewer contents inside, so they can fit more on a cargo plane, such as shipping and lowering carbon emissions.
Leave a Comment