The Way Way Back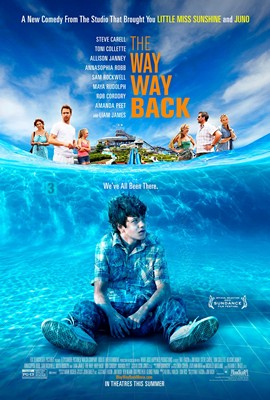 One of the funniest comedies of this past summer is not one that's very well known. The Way Way Back is a film written and directed by Nat Faxon and Jim Rash, both making their directorial debuts, although viewers can hardly tell. The natural dialogue and the smooth flow of the movie is very far from amateurish and makes the story much more believable.
The movie is a coming-of-age tale centered on a 14-year-old boy named Duncan, played by the relatively unknown actor Liam James. Duncan is on vacation with his mother, Pam (Toni Collette), her boyfriend Trent (Steve Carell), and Trent's daughter, Steph (Zoe Levin). Scrutinized by Trent and Zoe and feeling abandoned by his mother, Duncan begins to feel alone in the world. Pam now spends all of her time fooling around with Trent and his beach friends instead of being the consistent adult figure Duncan needs her to be. A romantic interest appears in Duncan's life in the form of Susanna (AnnaSophia Robb), who is a friend of Zoe's. She appears very reluctant to accept Duncan's friendship at first, but his distant outlook on life slowly intrigues her.
Duncan finally finds solace in the employees of Water Wizz, a nearby water park, most significantly befriending the easygoing and hilarious Owen (Sam Rockwell). He begins to spend more time at the water park and less with his family, whom he believes barely even notices or cares. His self-confidence and overall disposition improves immensely because of the quick acceptance of the Water Wizz community.
Things take a turn for the worse when Trent begins to notice Duncan's disappearances and wants to know why and where he runs off to. Pam also begins to grow more detached not only from Duncan but also Trent for an unknown reason. If Duncan wants his mother back, he must use his newly-acquired self-esteem to stand up for her and confront Trent about the situation, the ultimate test of his courage and determination to win back his family.
Liam James does an excellent job portraying the scrawny and socially awkward character of Duncan. The believability of his acting leads to many funny scenes, one involving singing 80's rock music and another a noticeable bright orange tan he begins to display after his long days outside at Water Wizz. I'm very glad that James is an unknown actor because if a popular teen actor tried to play Duncan (say, Logan Lerman), it would have detracted from the authenticity of his role. You wouldn't think, "That kid is Duncan," you'd think, "That's Logan Lerman playing Duncan."
At first, I was very skeptical towards the role Carell was going to play in this movie, as he usually just acts like a goofball and makes a fool of himself. This is thankfully not the case in The Way Way Back; instead, he delivers a very realistic and grounded performance. Whenever he has an insult to spit at Duncan or just a joke to tell, he never goes over-the-top as he does in other movies. He perfectly balances the humor and cruelty of what he's saying, causing the desired discomfort the audience is supposed to feel towards his dialogue. I was pleasantly surprised by his portrayal of the spiteful almost-stepfather.
Most of the humor in the film comes from Owen, the water park manager. Sam Rockwell delivers each line perfectly, with excellent timing and an extremely likeable personality. Whether it's sarcastic comments regarding the water park being able to resist nuclear fallout, or over-the-top gags like using a Water Wizz customer to remove a human blockade in a waterslide, it seems he knows exactly how to say every syllable of his remarks. His character, however, isn't all laughs, dealing with an on-and-off relationship and his own internal issues concerning immaturity and responsibility, but this hardly fazes Rockwell. He continues to emote his character's thoughts superbly, adding a new dimension of depth to Owen's personality. By the end of the movie, he will likely be your favorite person in the film.
The rest of the cast retains a consistent level of immersion in the film, never once revealing that they are merely actors in front of a camera. Other notable performances include Allison Janney as Betty, Trent's constantly-intoxicated neighbor, and the writers/directors Nat Faxon and Jim Rash, playing Roddy and Lewis, respectively.
This movie is cleverly written and character-driven, and never fails to keep the audiences' attention with loads of humor, heart, and even tension in scenes between Duncan and Trent. With an immensely talented cast and clever writing, The Way Way Back is easily one of the best films to come out of the summer season. It's no longer available in theaters, but definitely look out for the DVD, which hit shelves on October 22.
Leave a Comment