Making Sense of the Unimaginable
It started in a seafood market in China, nearly three months ago.
As the virus spread throughout China and Asia, we didn't think much of it. It was merely a topic on the news, which seemed so far away and unimportant to our daily lives.
Three months ago, we were celebrating the new year: 2020. There wasn't a care at all about some foreign virus; we seemed to be untouchable by it. No one took it seriously.
But then the virus kept spreading.
It spread into Europe, where Italy is now being called the "second epicenter" for the virus. It spread into Australia. Finally, it spread into North America.
On January 30, the United States reported its first case of the coronavirus.
Since then, the virus has continued to spread rapidly throughout the United States. Washington State became the early hotspot for hundreds of cases. Naturally, the virus spread throughout the rest of the country: the West Coast, the Midwest, and the East Coast.
The coronavirus, also known as Covid-19, spreads through person-to-person interactions, according to the CDC. People with symptoms, such as coughing or sneezing, can spread the virus. Additionally, coming in contact with contaminated surfaces also allows for the spread of the virus.
Symptoms can appear from 2-14 days after exposure including fever, cough, and shortness of breath. Older Americans, especially those with underlying health issues, are most at-risk.
In the last two weeks, the virus has run rampant across the country. Each day on the news, the cases only seem to grow exponentially, as more and more states report in. But by each passing day, the coronavirus seems to gain the upper hand on a country, a world, that is constantly functioning.
On March 5, the coronavirus finally reached Pennsylvania.
The next day, Central Bucks School District closed five of its schools "out of an abundance of caution" after staff and students interacted with a person who unknowingly had the coronavirus. Over that weekend, all schools were closed and deep cleaned.
The rest of the week seemed normal-ish. We went to school, where speculation ran rampant about what might happen with the coronavirus. But as the week progressed, it became clearer and clearer the toll coronavirus was taking on daily life.
On March 11, Rudy Robert, an NBA player for the Utah Jazz, tested positive for the coronavirus. His team's game that night against the Oklahoma City Thunder was canceled minutes before tip-off. Shortly thereafter, the NBA announced that it would suspend its season.
In the 24 hours after, all major sports started shutting down. NCAA suspended its annual March Madness tournament after various conference tournaments were canceled. MLS suspended their season.
So did the NHL.
MLB announced that spring training would be postponed and the NFL announced that team facilities were also closing. Eventually, the Master's was also canceled and the Boston Marathon was moved to September.
The sports world was left stunned.
A world without sports seemed unfathomable. Sports had always been the escape from the real-world for many people; now that sports were gone, what would people do?
As cancellations occurred left and right, Central Bucks School District announced that school would be closed on March 13 to allow staff to prepare in the event that online schooling would occur. This was announced following an earlier announcement that all after-school activities, such as clubs and sports, were suspended through April 14.
On March 13, it was announced that all Bucks County public schools would be closed through March 29. Only hours later, President Trump declared a national emergency for the United States.
Disney World is closed. National museums in Washington D.C. are closed. Grocery stores are practically empty. The places we work are closing one by one. Gyms, malls, movie theaters…all closed.
All of this is unprecedented; life has come to a standstill.
There is simply no way that life can just stop. With so many of the us involved in sports and extracurricular activities, taking a break from all of the activities that we put so much time into everyday is mind-boggling.
Now that school is on pause, and with so many public places closing, what do we do now?
This time off might be a blessing in disguise. Take this time to get your mind right, get back the sleep you're always begging for, and spend time with your families. School puts us in such a structured routine, so breaks are hard to come by. Work on finishing homework. Prepare for AP tests now instead of later, as May will certainly be here before we know it.
For seniors, the fear of what happens to our senior year is certainly prevalent.
As difficult as it is to have all of our activities put on pause, we must look back joyfully on the experiences they have provided us. A foreign virus spreading exponentially is something nobody could've predicted for our senior year. Despite all the unknowns right now, our senior year will not end due to some virus.
Have patience and optimism.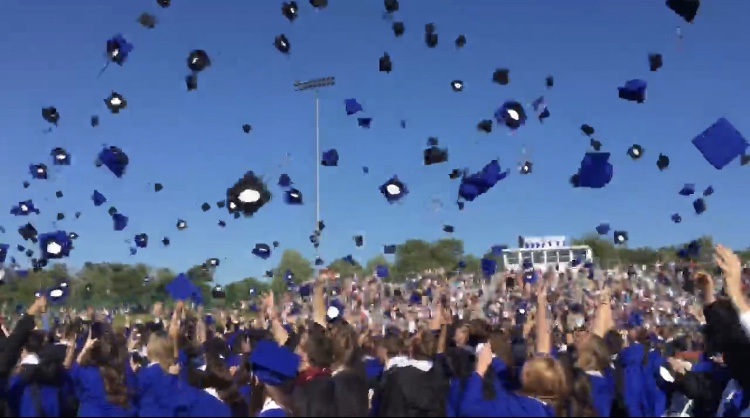 In the mean time, our top priority should be staying healthy. Washing our hands, eating more nutritious foods, and wiping down contaminated surfaces, like phones and laptops, will keep us healthy.
It's baffling to wrap your mind around the idea that a virus from a seafood market in China is the reason you're home for two weeks now in the suburbs of Philadelphia. The cancellation of everyday life, essentially, is historic and unprecedented, but keep in mind that we are all going through this together.
Adjusting to this new, temporary life will be difficult and challenging. But we will persist. We will adapt. The virus will eventually subside, sports and activities will return, and normal life will be restored.