The Return of DeSean Jackson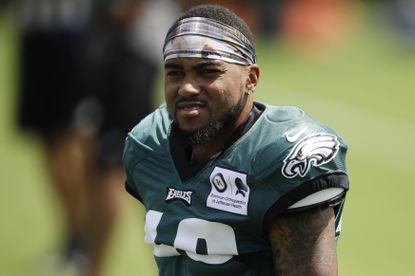 As the first player in NFL history to win a game by scoring on a punt return, DeSean Jackson has been a fan favorite in Philadelphia since he was drafted in 2008.
Jackson logged 1,000+ yard seasons in 2009 and 2010, two of his best seasons. His iconic performance during the Miracle at the Meadowlands II in December 2010, where he helped lead the Eagles comeback against the New York Giants after trailing 21 points in the middle of the 4th quarter, is famously remembered among Eagles fans.
However, on March 28, 2014, the Eagles released Jackson without a specific reason, although some speculated that it was due to gang affiliations, according to Heavy.
Jackson moved forward, playing for the Washington Redskins and Tampa Bay Buccaneers before being traded on March 11, 2019 by the Buccaneers back to the Eagles.
In a brief NBC Sports interview with Jackson regarding the trade, he said, "It feels great.
Unreal, it's a blessing."
Not only was Jackson satisfied with the trade, but QB Carson Wentz was optimistic as well.
On his personal Twitter account, Wentz tweeted, "I'll just stand here and throw it as far as I can, you go ahead and just RUN…. how's that sound @DeSeanJackson11? Welcome back to Philly my man!"
With DeSean now added to the lineup, the Eagles surely have one of the most powerful wide receiver combinations in the league. He will be starting alongside Alshon Jeffery, Nelson Agholor, and Zach Ertz.
Jackson made his long-awaited return with the Eagles during their season opener against the Redskins, where he racked up 8 receptions for 154 yards, and 2 touchdowns. He led the team in yards offensively.
Unfortunately, Jackson was diagnosed with an abdominal strain in the second half of the week 2 game against the Atlanta Falcons. Further tests performed days after the injury ruled Jackson out 2-4 weeks.
Once Jackson is healthy again, the Eagles will add to their explosive offensive line. Their record sits at 3-2 after a blowout win against the Jets.
Will they be capable of another playoff run? With DeSean Jackson back in Philly, that's the hope.