South Girl's Swim Team Defeats CB East
For the first time in school history, the 2018-19 South girl swimmers achieved something no other swim team before them has done: Defeat CB East.
It's not to say there was some drama to it, with the meet coming down to the final event: The 400 free relay. The girls swam with purpose and drive, sensing the momentum turn in their favor.
It was a back and forth contest leading up to the final event. At one point, the score was tied 63-63 before the South girls went up 88-84 going into the last event. In order to win the meet, the girls needed to finish within the top 2 times in the relay.
Whether on pure will or feeding off the energetic home crowd, the girls finished with incredible times in the relay. The top time went to Chloe Matsick who finished in 3:20. Haley Tevnan, Kaylin Goodling, and Haley Scholer followed closely, placing with top times as well.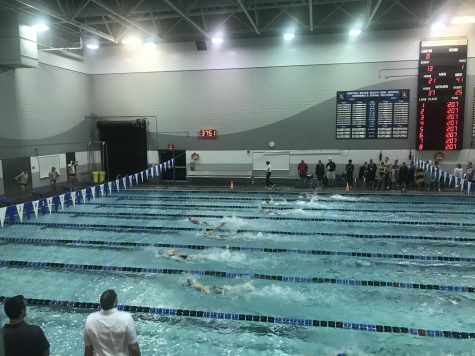 As each girl finished, swim coach Mr. Whelan jumped up and down in excitement. The final score read 96-90 but he, nor anyone else, needed to look at the scoreboard to know what just happened: The girls just beat CB East.

Shock, excitement, and tears of joy overcame the girl swimmers. Finally, finally, they had done it.
"I am beyond proud of this team. Not only have we had success in the pool and accomplished something that will lead the future of South swimming, but more importantly we have created a family-like atmosphere that keeps us excited and feed off of other people's good vibes," junior Ryleigh Rosta describes.
What many people may not know is the amount of preparation that comes with swimming. While most sport practices, such as track or basketball, start after school, swimming actually starts BEFORE school. As most of us wake up, groggy and moody, the swimmers are in the pool at South practicing by 6 am. The early practices, the lifting sessions, the tired muscles; It all paid off in the girls' first victory over East.
It is that energy, the sense of togetherness, that led to arguably the biggest victory in South sports in recent memory.
"That night was so great," says junior Allison Damico. "I was so proud of all the girls on my team because it took all of us to make that win happen."