DJDaveG: How His Passion Grew to a Business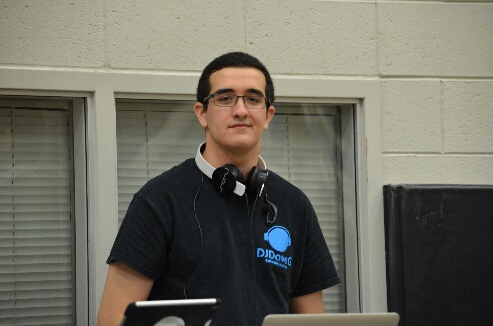 From a small Halloween party at a friend's house to many large events, DJ Dave, also known as David Gordon, has grown not only popularity but a business.
David Gordon, a senior at CB South, is known school-wide, for his DJ business. Growing up loving computers, it is not surprising that he also loves what he does now. During his middle school years, he created DJ mixes. When classmates bullied Dave, it only made him work harder and continue doing what he loved.
The first party that he DJed was a Halloween party in eighth grade with ten guests. Though was he thrilled to DJ, he was also very nervous.
"I was so scared for this party; I had no equipment. I had to rent everything," David said.
When the party started, there were a total of ten guests, and he didn't know what music they preferred. The kids would walk up to his table and requests songs for five straight hours. This small, basement Halloween party was how it all started.
When high school came along, David began to DJ at his classmates' Sweet Sixteen parties and eventually grew a business. With close to 15 parties from students at CB South alone, David really earned his title of DJDaveG.
However, his parents were apprehensive about his starting a business.
"They were very skeptical. They didn't know what was happening," David said. "I just told them they were going to drop me off, I was going to put stuff in their car, and I am going to bring it with me, and they were going to pick me up at a certain time, and that would be the end of that."
After showing his parents that his business was becoming a success, and that he could balance his work with school, he continued to book more events.
This year, David DJed at CB South's MiniTHON. The event was a success, and it was very visible that he loved what he was doing. Not only did he enjoy it, but the audience enjoyed it as well.
With school being David's first priority, he plans to continue his education at a college in Philadelphia in the fall of 2019. While living there, he also hopes to still keep his business going in the Philadelphia area.
Until then, DJDavG is continuing to express his passion, DJing.
If you would like to book DJDaveG for your event, you can find him on these platforms,
Instagram: davidg191
Website: www.DJ-DaveG.com/