NBA Opening Day + Recap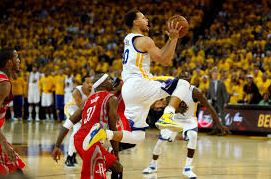 Basketball season is once again upon us! No doubt this season will be full of tricks and you will certainly be in for a treat. Don't be afraid if your team doesn't reach the playoffs this year; there's always next year. So, get ready to BOO your most hated team and cheer on your favorites!
On October 17th, four teams will go into battle and officially mark the start of the NBA 2017-18 season. The 2016 NBA champions Cleveland Cavaliers will meet the Boston Celtics at home, in a rematch from last year's semifinals.
Over the course of the offseason, these two teams switched things up in their lineup and the rosters will look much different from the last time they met. The Celtics acquired Kyrie Irving from the Cavaliers, who in return acquired Isiah Thomas. Kyrie, a former rookie of the year and four-time All-Star recipient, joins 2017 NBA All-Star Gordon Heyward and 2017 1st round draft pick Jayson Tatum on a young and motivated Celtics team. On the other side, Isiah Thomas, a two-time NBA All-Star, will join three-time NBA champion and finals MVP Lebron James alongside Kevin Love, a four-time All-Star. This game has all the star power and drama and will surely be a game that cannot be missed.
The next game features a stronger Houston Rockets team visiting the defending NBA Champions Golden State Warriors in the Bay Area. James Harden, who recently signed a four-year, $160 million-dollar extension with the Rockets, leads his team with the new addition of point guard Chris Paul, a nine-time NBA All-Star, along with 2017 Three-Point Contest champion, Eric Gordon. They will have to battle a confident Golden State team featuring two-time NBA champion and season MVP recipient, Stephen Curry, a NBA champion and 2017 finals MVP, Kevin Durant, along with two-time champion and three-time All-Star, Klay Thompson. Both of these playoff-contender teams will be looking to make a big statement in what is sure to be a competitive contest.
Meanwhile, the Philadelphia 76ers will meet the Washington Wizards in their season debut on October 18th, featuring a much younger squad on the floor. Joel Embiid, who recently signed a contract extension with Philly for five years, looks to continue his dominance after missing the end of last season with an injury. Ben Simmons will finally make his much-anticipated NBA debut after missing all of last season due to an injury as well.
The first overall pick in this year's NBA draft, Markelle Fultz, will also be making his NBA debut ,as well as from off the bench. Alongside power forward, Dario Saric, and small forward, Robert Covington, Philadelphia fans have a good reason to be excited for this upcoming season.
RECAP:
In a competitive and emotional game for both teams, the Cleveland Cavaliers held off the Boston Celtics in a 102-99 win. Cleveland snuck away with a win after Kyrie Irving, who scored 22 points in the game, almost hit a game tying three pointer. Gordon Heyward, making his Boston Celtics debut left the game in the first quarter after suffering a gruesome ankle injury as he tried going for a rebound. Heyward has undergone surgery and will likely miss the entirety of the NBA season. Both teams were visible shaken up after the injury, with Boston being dealt a devastating blow to its new small forward. There were no hard feelings between Lebron James and Kyrie Irving, however, as both embraced after the game.
The Rockets-Warriors game was full of excitement as James Harden and company rallied to knock off the defending NBA champions. Kevin Durant, who scored 20 points, drained the last shot of the game to give the Warriors the win. However, officials replayed the footage and declared that time expired before Durant shot the ball, giving Rockets the win. Warriors fans were surely disappointed as the Rockets stole the win. James Harden led the Rockets in scoring with 27 points while Chris Paul, in his Rockets debut, scored a mere four points on 0-4 shooting from beyond three.
In a very exciting and very optimistic game for Philly fans, the 76ers could not seal the win against the Washington Wizards. The game was close all throughout, but John Wall, who scored 28 points, and company were able to knock off the Sixers. Ben Simmons in his debut recorded a double-double, scoring 18 points, while Joel Embiid also scored 18 on 7-15 shooting. Robert Covington sunk 7 three pointers leading the team in scoring with 29 points while Markelle Fultz scored 10 points in 18 minutes. Although the 76ers lost, it was a win for Philly fans who have waited patiently to see the results of these young core players.