Bendo and Baseball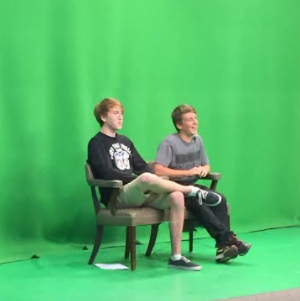 Josh Kaye, Contributing Writer
November 25, 2016
Alex Bendo is a CB South senior who plays for on the baseball team. He is a student-athlete committed to Washington College.
Alex is a middle infielder who prefers second base, but will also play shortstop, where he is projected to start this year. He is a lefty batter and throws right-handed.
Alex, or Bendo, as his teammates like to refer to him as, is third on the CB south pitching depth chart, with his average speed on a fastball at a solid 85 MPH.
During the offseason, the baseball team has workouts every Tuesday and Thursday from 8:15 to 9:00 PM.
Bendo is not like the rest of the team, because he goes to practice even before that. "It's kind tough having two practices in one day, but I have been doing since I was a freshman. I'm kind of used to it by now."
Bendo has a very simple but effective workout routine: he does workouts that hit all the muscles in the body. He does sets of fifteen, twelve, ten, and eight, adding weight every time.
 But one muscle stands out among the rest: the biceps.
"Any logical person has to do biceps, I mean just look at these things," Bendo gestures to his biceps . "They're weapons."
South's baseball team is in a 12-person fantasy football team called "Dinger Derby." Bendo talks about it all the time; it was a topic of conversation at off season workouts.
"The fantasy football team is a great way to stay connected in the offseason, it gives us even more of a sense of community," Bendo said during the workouts. "It's a good team building activity that brings us all together right before school again."
Talking about the team's fantasy football league, Bendo said, "Okay Nick [Ambolino, Alex's teammate], Dez [Bryant, Cowboys wide receiver] hasn't been relevant since 2014, you have no chance at beating me this week."
The CB South baseball team will be making a trip down to Myrtle Beach for spring training this year.
This will be the first year that the team will be doing during training in Myrtle Beach. This is one of the changes that second year coach, Brain Klumpp, has made.
"The Myrtle Beach trip will be a really cool team bonding experience," Bendo said. "It will be nice to be able to play the first game of the year in weather that I don't have to wear seven layers to be warm."
 The Myrtle trip will be the largest trip in CB South Baseball History. This will require the team to participate in fundraising.
"Fundraising is not going to be a fun thing to do, but we have a lot of good ideas this year to make it more bearable," Bendo said.
The CB South baseball team lost in their second game of the playoffs last year. "Losing the second game of the playoffs was very disappointing for our team, after the regular season we had last year," Bendo said. "This year I want to go further into playoffs and eventually make it to Penn State."
The team last year only lost four times, making them the team with the most wins in CB South baseball history. "We played tough, that's what got us those wins," Bendo said. "It will be tough to repeat the season we had last year, but we have a lot of seniors on the team with experience from last year. I think we it will be hard but I think we can have the same level of success if not more this year."
"I'm just going to try to make no errors in the field and have a solid batting average. I will also try to keep my earned run average as low as possible," Bendo said about his plans for this year.
Bendo committed to Washington College, a division three college, early in his senior year.
"I loved the place and the coach was really good at communicating. Plus, I get to also play against Gross [CB South's catcher]," Bendo said.
Bendo is in for one big baseball year, but he is not worried, because he has trained for his whole life and readied his biceps for this moment.