Joel 'The Process' Embiid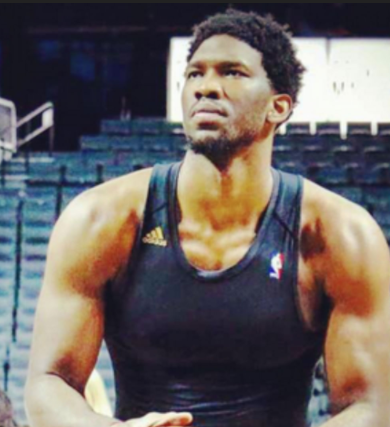 The path to the NBA was not easy for Joel Hans Embiid.
The 7-foot native of Cameroon has faced what many consider to be one of the most difficult, and frustrating journeys to the NBA of all time. Plagued by injuries from his college years, Embiid was forced to sit out for 2 entire NBA seasons before he would finally get a chance to play. To put that into perspective, Embiid had to wait for more than 900 days until he could actually participate in a real game of basketball.
Touted as one of the most talented basketball prospects ever, the expectations for Embiid were through the roof. At the University of Kansas, Embiid put up excellent numbers, averaging 11.2 points, 8.1 rebounds, 1.4 assists, and 2.6 blocks in 23.1 minutes per games. Standing at 7ft, weighing 250lbs, he was the ideal size for an NBA center. He was considered one of the most athletically gifted big men in the history of college basketball, as he moved very quickly for his massive stature. Drawing comparisons to legends such as Hakeem Olajuawon and Tim Duncan, he was expected to be the #1 pick in the 2014 NBA Draft.
All was looking great for Joel Embiid until he suffered a stress fracture in his back before the Big 12 Tournament. Without their star big man, Kansas lost in the third round of the tournament, ending their season in disappointment.
Despite this, Embiid's success during his freshman year allowed him to forgo his final three years of college eligibility. On April 9, 2014, Embiid declared for the 2014 NBA draft, considered the top prospect in his entire class. With everything looking great for Embiid, he seemed destined to be drafted with the #1 overall pick by the Cleveland Cavaliers.
And then the injury happened.
On June 20, 2014, just six days before the draft, Joel Embiid suffered a stress fracture to the navicular bone in his right foot. This would require surgery, and he would not be able to attend the draft because of his inability to fly due to his surgery.
With the first pick in the draft, Joel Embiid was not selected. Instead, his Kansas teammate, Andrew Wiggins, was chosen by the Cavaliers. Due to his injury, Embiid's value dropped immensely, causing two teams to pass up on him.
However, the third team on the clock did not pass up on him, and on June 26, 2014, Joel Embiid became a Philadelphia 76er. The team understood that he would not be able to play basketball for a full season, but were willing to risk losing games in order to gain higher draft picks. Former 76ers GM and President of Basketball Operations, Sam Hinkie, was the architect of this innovative roster rebuilding plan. This would soon become widely known as "The Process," a name that would eventually have a much greater meaning for Embiid.
The 2014 season was an absolute disaster for the Sixers. The team finished with an 18-64 record, tied for third worst in the NBA. Despite the team's struggles, Embiid could do nothing but watch from the sideline, as his foot needed time to heal. Despite the team's struggles, there remained a glimmer of hope. Embiid's foot was expected to heal in time so that he could participate in the 2015 NBA Summer League and ultimately the 2015 Regular Season.
And then the injury happened. Again.
On June 13, 2015, it was announced that Embiid had suffered a setback in his recovery. A CT scan revealed disappointing results, showing much less healing than expected. With this news, it was determined that Joel Embiid would not be able to play at all in the 2015 season. In fact, he would have to undergo a second round of surgery on his right foot, preventing him from participating in most of the team's activities.
To make matters worse, a report came out claiming that Embiid became out of shape. According to this report, this was due to eating large amounts of junk food and drinking pitchers upon pitchers of Shirley Temples. This report came out on the anniversary of his brother's death, making its effect much more harmful on Embiid and his family.
On social media, Embiid was bombarded with hate comments claiming that he would never play an NBA game, and lacked competitive drive to succeed.
Despite this tough time, Embiid was determined to get back on the court, telling all of his fans to "Trust the Process."
In April 2016, things finally started to turn around for the Philadelphia 76ers. Embiid was cleared to participate in 2-on-2 drills, and the team had won the draft lottery, giving them the ability to draft star prospect, Ben Simmons with the first overall pick.
Despite the progressions, Embiid was sidelined from participating in the Las Vegas Summer League in order to prevent an injury from occurring on the court before the season started.
After a long wait, Joel Embiid had finally reached full health and was allowed to participate in the team's training camp. He managed to make it all the way through the camp without any injuries, allowing him to be eligible to play in his first NBA game.
On October 4, Embiid made his NBA Debut against the Boston Celtics, showing both rust and promise as he sunk multiple baskets, had a block at the rim, and showed excellent awareness throughout, ultimately helping the team get a win.
Just 2 days later, Embiid would play his first home game at the Wells Fargo Center, where he received a standing ovation when he took the court. He even asked the venue's PA announcer, Matt Cord to introduce him as "Joel 'The Process' Embiid," a homage to the team's previous rebuilding plan, and to the man that drafted him, Sam Hinkie.
Despite being on a minutes-restriction, Embiid continued to impress throughout the preseason. In his first 6 games, he averaged 25.9 points, 15.4 rebounds, and 3.3 blocks per 36 minutes. He drew attention from NBA fans all over the league after excellent performances against All-NBA center Andre Drummond, and veteran Marcin Gortat.
After a very long and difficult path, Joel Embiid is finally on the court. In just a short period of time, the regular season will tip off and he will finally be given the chance to make a difference in the NBA and prove to Sixers fans everywhere that the process was well worth the wait.