Fall 2015 Lookbook
This fall, we've been experiencing a lot of unseasonably warm weather. But who cares? We've hit fall fashion gold. Yes, you can wear your comfy sweaters and knits, but thanks to the weather, you have the option of pairing them with ankle boots and skirts instead of a puffy jacket. Also, you can still layer (Yay, layering season!) without feeling uncomfortable. I've put together a small lookbook in case you need any ideas for upcoming events, or if you're just wondering what to buy next for this season. Sorry boys, no outfits for you this month, but by all means steal any ideas you want.
LOOK 1
Going on a day out with friends? A casual date? Flannel does you no wrong for the fall. Keep the colors seasonal in deep greens and/or berry tones, and try to stay away from loud reds mixed with black so as to not look similar to a stereotypical lumberjack. Pair it with a fitted camisole or undershirt and your favorite pair of boyfriend jeans. If you are a little on the short side like me (shout out to all 5'2″s), then remember to cuff your jeans at the ends so as to not look like you're swimming. For accessories, add in a pair of brown wedge boots and a slouchy purse, and you're golden. Converse shoes also look good with this outfit. For jewelry, a couple midi rings, a watch, and stud earrings are the epitome of cute and casual.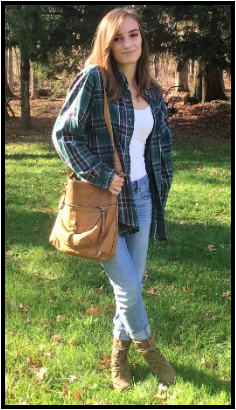 Pic Info: Top: Forever 21 , Jeans: American Eagle Outfitters, Camisole: Old Navy, Shoes: Blowfish, Bag: Fossil.
LOOK 2
The next look is great for something still casual but a tad bit fancier. Do you have a friend's birthday party? A day in the city? Go for it. It is still comfy and casual, but the purse and the hint of silk paneling on the side of the sweater make it a bit more dressy. Note the colors too. Don't be afraid to mix bold neutrals like peach and olive green. Not only are both colors on trend this fall, but they go great together. The nude colored bag goes well with it, but don't hesitate to swap it out for a saddle color. Tall or short boots also pair well.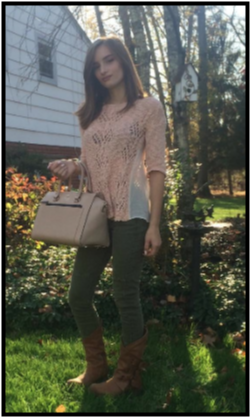 Pic Info: Top: Anthropologie, Jeans: Lucky Brand USA, Bag: Kate Spade, Boots: Coolway UK
LOOK 3
This look is great for a multitude of things and includes many people's favorite part of fall (other than pretty leaves): layering. Denim shirts never go out of style. Do your future self a favor and buy one ASAP. Tip: Buying timeless pieces ensures that you'll be able to wear them for years, getting the most bang for your buck. Also, you can wear whatever color pants you want! I picked a deep berry, which is also super on trend for the fall season. You can pair this with a brown bag with brown heeled booties, and you're ready to go.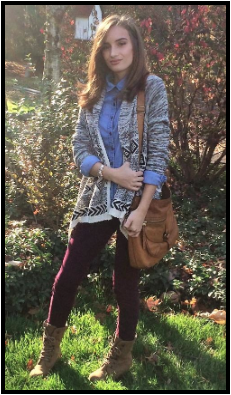 Pic Info: Top: Gap, Cardigan: Francesca's, Pants: American Eagle Outfitters, Boots: Blowfish, Watch: Fossil, Bag: Fossil
LOOK 4
It's totally okay to be a little preppy. If you couldn't tell, the shirt underneath the sweater is the same as in the last outfit. Tip: Find different ways to wear the same clothing. Experts say you should be able to pair a piece that you buy with at least five other pieces in your wardrobe.  Anything else look familiar? Yes, the bag and the watch, but also the pants. Plaid is the epitome of fall.  Again, this top combo goes well with any color pants; however, if you're going for that prep look, find some stylish dark brown plaid pants. Oh, and I almost forgot, lips! You can always play it safe with a berry hue, but light brown in definitely on trend. Find a light or dark shade that suits your complexion. If you are unsure, go to a counter such as MAC, and a professional can help you make your pick.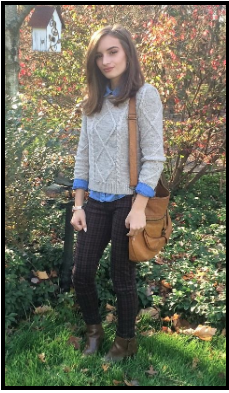 Pic Info: Sweater: Banana Republic, Shirt: Gap, Pants: Sanctuary, Shoes: Guess, Bag: Fossil, Watch: Fossil
LOOK 5
This is another look that can go casual or a bit dressier. Here we see another two trends that are dominant this fall: turtleneck sweaters and riding pants. Since the 70s, there's been a bit of a fear of turtlenecks. Now is the time to seize the moment and try one out yourself. Keep in mind they're not for everyone; if you have a short neck or if you really don't like fabric around your neck, they're probably not for you. Riding pants are in style also, but they have their limitations. You don't want to buy actual riding pants, which can sell for around $150. These "faux" riding pants are not made of the same material that is used for riding actual horses. Pair a cream sweater with other nudes and neutrals, and you will be right on trend this fall.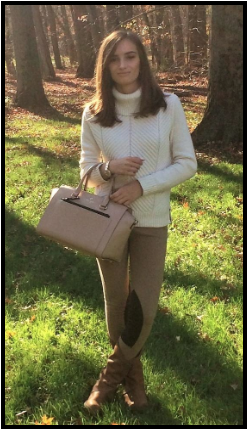 Picture Info: Sweater: Banana Republic, Pants: Ralph Lauren, Boots: Coolway UK, Bag: Kate Spade, Watch: Movado
LOOK 6
This look I made for a special occasion, most notably Thanksgiving. The colors go well for fall, and it's just the right amount of comfy but chic. Again we use the same sweater from the last outfit and just changed the bottom to a bold skirt. Another trend this season: slits. You'll see them on celebrities like Kylie Jenner and Carli Bybel; it seems the fashion world just can't get over the super feminine cut. Pair a bold skirt with a cream sweater, a saddle colored bag, and some heeled booties, and you will be more than ready for your next party.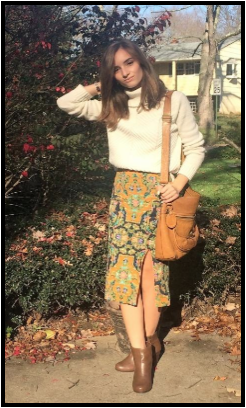 Picture Info: Sweater: Banana Republic, Skirt: Anthropology, Bag: Fossil, Watch: Movado, Shoes: Guess
So this wraps up this year's fall lookbook; hopefully I helped some of you out with ideas for your next couple of outfits, or what to buy next, or maybe even holiday presents for others. All picture info is there in case you would like to buy something similar to what I have on. Keep in mind you don't need the same exact clothes to make the same look; mix and match and make your style your own!
***photo credits to Katelyn Wolfgang