Meet your Match: Abby Caddick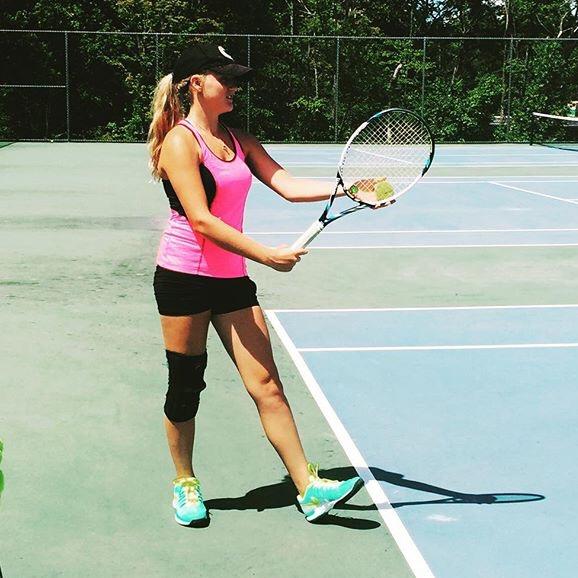 Eat. Sleep. Tennis. Repeat. This cycle is not far from the actual lifestyle lived by Central Bucks South varsity tennis player, Abby Caddick.
Abby, a sophomore, is a force to be reckoned with on the court and has a 23-4 record since she joined the tennis team freshman year.
Abby began playing the game at the early age of six years old. However, her drive to pursue tennis faded, and at the age of nine, she briefly quit the sport. Urged by her parents and herself to give it another try, she began playing again the following year.
"Something was missing. Without the game in my life I didn't have the same drive to succeed as I had had when I was actually competing in a competitive sport," Abby said. "Not to mention my parents also really wanted me to play again."
Another contributing factor to her return to the game was her role model, Serena Williams.  While away from the sport, Abby still enjoyed watching professional tennis and said she really respected the talent and work ethic of Williams.
Since returning to the game, Abby has since played competitively for the Tamanend Middle School tennis team and the United States Tennis Association (USTA).
The USTA is single handedly the leading not-for-profit tennis organization in the United States.  With over 700,000 members, the association uses 100% of its proceeds to benefit the growth of the sport from the community to professional level.
Four years after returning to the game, Abby won her first career tournament in 2014 at Granite Run. "It was one of the most amazing feelings in the world," Abby said. "After returning to the game just four years prior, it was really special to win my first tournament.  It just goes to show you that hard work pays off."
After finishing her freshman season with a 12-1 record, Abby returned to the court as a sophomore, and on August 24th she recorded a 6-0, 6-0 victory against Council Rock South.  Just three days later on August 27, Abby once again recorded a 6-0, 6-0 victory, this time against Souderton.  
A 6-0, 6-0 tally is the highest possible score that can be achieved in the game of tennis.  After recording two in three days, her third and final shutout of the season came on September 8 against a tough Hatboro-Horsham team.
"Coaching Abby is very easy because she is a very coachable individual. She applies all strategies that are suggested to her and she has a huge desire to win," CB South varsity tennis coach Mrs. Yanik said.
In order to compete at such a high level on a match in and match out basis, Abby practices with her coach three days a week. While with her coach, Abby also practices with fellow tennis player and friend, Emily Rabinovich.
To practice, Abby and Emily play singles in order to simulate the action of what it is like to play in a real match.  Although they are just exhibition games, Abby says that things often get quite competitive between the two of them.  On her two days' rest, she takes to her backyard to play on her wall  Yes… her wall.
On the two days of the week that Abby is not with her coach, she plays tennis by herself in her backyard on the wooden wall that she and her dad built for practice. She uses the wall to volley with herself and practice her contact and spins on the ball.
"One of the best feelings in tennis is when you execute something in a match that you worked so hard to master during practice," Abby said.
Abby is a prime example that success requires hard work, and often does not come easy, especially when playing a sport. She follows a strict practice schedule and gets upset when she fails to follow it.
Although Serena Williams had a major role in Abby's return to the sport, she says that her new favorite player is Flavia Pennetta.  Pennetta, an Italian singles player, won the US open in 2014.  
"I have a ton of respect for her game," Abby said. "Even though all of the odds were stacked against her in the US Open, she was able to overcome every obstacle and win one of the biggest and best tournaments in the world.  She also has a great mental game, which I would love to have!"  
Many years and role models after returning to the game of tennis, Abby Caddick is turning heads with her impressive play and work ethic as a member of the CB South tennis team. As a sophomore, Abby still has two full seasons to show what she can do before she graduates.