Tim Ware: Success from CB South to Olympic Trials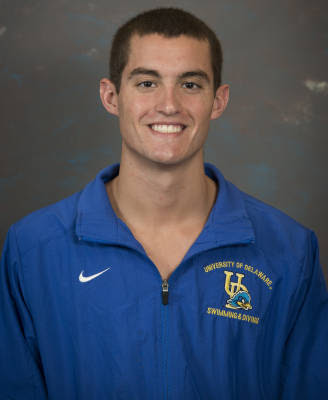 Swimming is an odd sport. First, it takes place in the water, a place that few people have the opportunity to work in every day. Second, there is not a steady supply of air, so it is not uncommon to have burning lungs from a lack of oxygen with an aching body. Lastly, swimming is done horizontally, contrary to land sports where the feet are below a person's body with their head looking forward.
Tim Ware, a CB South alumnus who began swimming at age 10, has defied these challenges when he qualified for the United States Olympic Trials in the 100 meter backstroke this August. In the preliminary heats of the 2015 Phillips 66 Long Course National Championships, Ware placed 59th overall in the event with a time of 57.03 seconds.
This breakthrough occurred after Ware graduated from University of Delaware this past May. To keep in shape, Ware said, "I stayed at Delaware for the summer after I graduated to train with my coach for the USA National Championships."
In preparation for the iconic meet, Ware said that he must become stronger and adjust to the 50-meter Olympic-size pool. The strategy when swimming in an Olympic-sized pool differs greatly from the strategy used when competing in a 25-yard pool.
"I'm taking a break right now [from swimming] and focusing on weight training four to five times a week to try to get stronger. I plan on getting back in the water around late November or December with either the Central Bucks Swim Team or Delaware to train for the Olympic trials in June," Ware said.  
According to Coach Jeff Lake, who was Ware's coach at CB South for four years, "He had a phenomenal underwater fly kick." In an Olympic-sized pool, there are less turns to kick off of, so Ware will have to find alternative methods to fly kick in order to gain speed.
"I have to work on moving my arms faster and keeping my kick at a high tempo throughout the race. I can't let my stroke slowdown in the last 15-20 meters like I have in the past," Ware said in response to the change in pool length.
"I've never been to Olympic trials, but I hear it's unlike any other meet with all kinds of pyrotechnics and just a completely different atmosphere." Ware said he is excited about "sharing the experience with [his] friends, family, and teammates and watching the Olympic team get decided first hand.
Before his national success, Ware sat at the desks and walked through the halls of CB South for three years. He recalls how "unique" high school was because "you're in one building for seven to eight hours a day, five days a week with your closest friends that you've grown up with your whole life. It's impossible to not make great memories, and I miss that atmosphere."
During his high school years, Ware said he was most influenced by Coach Lake and Stu Kukla who coaches Central Bucks Swim Team (CBST). "[Coach Lake] is the most passionate guy I know, and he taught me a lot about the importance of hard work, working as a team, and being a leader."
Ware said, "My coach at CBST [Mr. Stu Kukla]…probably taught me the most about the sport of swimming as a whole from racing strategy and technique to conditioning and recruiting for college."
For CB South, Ware still holds records in the 100 yard butterfly at 51.63 and the 100 yard backstroke at 52.12.
About his transition to University of Delaware, Ware said, "You quickly become responsible for things you never had to be responsible for and when you're balancing those responsibilities with school work, a sport, and a social life, it can get overwhelming."
Through swimming, Ware said he has found a community of friends and role models to balance the mental strain of "[juggling] academics with swimming."
"When you're on a team where you and your teammates are working hard every single day, going through more pain than you think you can handle, your teammates quickly become your family," Ware said. "They know you better than anyone and you develop relationships unlike any other."
While Ware attended Delaware, he earned records in the 50 backstroke (21.39), 100 back (46.90), and 200 back (1:45.60).
One of the best memories Ware recalled from his time at Delaware was the CAA Conference Championship of his freshman year when he and two juniors had qualified for the final eight in the 100 yard backstroke. "Swimming in that final next to the guys I trained with all year was the best feeling," he said. "That's when racing is the most fun–when your teammates are right next to you."
Regarding the transition from college to adult life, "no longer living with all your friends and having the support system of a team of 60 people like you used to have" are the hardest parts according to Ware. "When you're on a swim team that works that hard, you develop incredibly strong bonds and lifelong friendships that mean more to you than any medals or time standards."