Kicking Off the Year with CB South's Football Team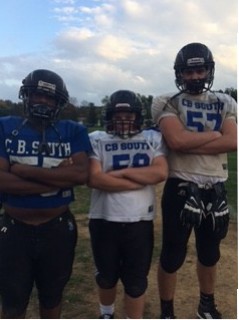 As the weather gets colder, what we anticipate the most as a school are our Friday night football games. We started off this season with a home game on September 4th against Central Bucks West, which we won with a final score of 40 – 14. The next game was away on September 11th at Council Rock HS, where we lost 29 – 36. Our last game was also away on September 19th against Central Bucks East, where again we lost 27 – 40.
According to Maxpreps, South's national rank is 3,730th.  It has moved -147 places, and our state rank is 159th, -9 places from last year. We had a strong beginning of this season with our home game against West: the stands were full and Titan Terror was packed. The camouflage and orange hunting apparel was worn in good spirits as we watched the team score again and again.
"It was so much fun, I've never seen Terror so hype," said Varsity cheerleader Jaclyn Schneider. Amidst chants of "I believe that we will win," most students agreed that this year's FTB game was indeed "hype."
Our second game at Council Rock was not a victory, but at least we showed our patriotism for 9-11 by wearing red white and blue. Because it was an away game, there were fewer students present, but those who could, came to support our team.
A recent game at CB East also was not a win, however due to the tragic circumstances, it was a game well played. The tragic passing of South student Chris Sydlowski that past week made it hard to go to a football game, when his funeral was earlier that day.
"The team is continuing to keep Chris in our thoughts when we play," said JV Free Safety Emerson Grant. "We are also thankful to CB East for accommodating us [by rescheduling for later in the day out of respect for Chris' funeral.]"
This year our head coach is Mr. Tom Hetrick, who is also a history teacher at South. The main JV coaches are Coach Lykon and Coach Stafford. The list of Varsity coaches include Coaches Veit, Szarko, Loagan, Detweiler, Skeno, and Monk. Unfortunately, we are also beginning to build a list of players who have injuries, including Uhuru "Cookie" Kamau, who broke his fingers, and Ryan Kelly, with a leg injury.
As the season progresses, the amount of injuries is predicted to naturally increase. However, there are plenty of players to keep your eye on this year, most notably Mike Goldsworthy, Nate Norris, Cole Braccio, Joe Vitelli, Tyler Watson, and Ian Vogt. You can view videos of their game highlights here.
Despite the outcomes of our last couple of games, everyone is hopeful for a great season. Grant said that "[the team] is doing very well this year, and even though we lost, we continue to get better." History teacher and game announcer Larry Bowler also stated that "the team is working hard and has had a chance to compete in all three games to date".
Our team is currently 3-4, and our next game is away at Pennridge this Friday, October 23. Be sure to come out and show your Titan pride!