Eat, Sleep, Breathe Sports–New Athletic Director Mrs. Turner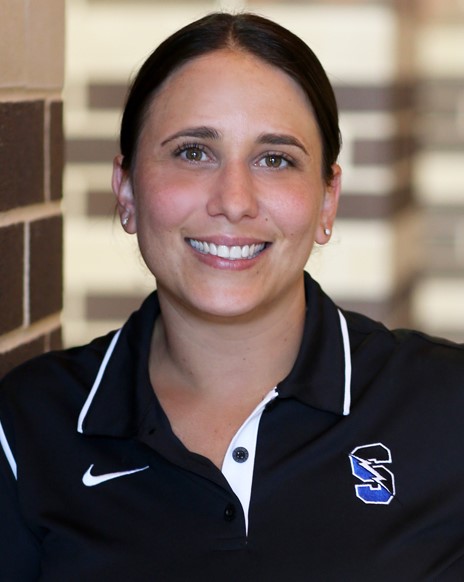 Sports have always been a part of South's new Athletic Director, Mrs. Danielle Turner's life. As a child, she first started playing soccer, and then later played softball, basketball, lacrosse, and track. Mrs. Turner attributes her involvement in sports to her parents signing her up and said, "I really enjoyed sports, so it was a good thing."
Mrs. Turner went to Nazareth Academy High School where she was a part of the soccer, basketball, lacrosse, and track teams. "I think playing sports enriched my high school experience because I still have some of my teammates as friends today," she said. "It made me feel a part of the school community at the time."
While on the Nazareth Academy soccer team, she and her teammates won four soccer championships, the first team to do so in the school's history. "It was a neat thing to be a part of," she said.
For college, she attended La Salle University where she majored in English and Education, while also playing on the soccer team.
Before South, Mrs. Turner worked at Nazareth Academy as an English teacher, gym teacher, assistant athletic director, and most recently, athletic director. She was an athletic director exclusively for four years but held the position for a total of eight years. "It was really nice to go back to my old school and give back," she said.
When Mrs. Turner heard she got the job at South, she said she was "pretty thrilled because this is [her] dream job." She continued, "My goal when I started off my career was to be a part of a really big program with Friday night football games and big basketball games with crowded gyms. Now I feel as though I am going to be able to accomplish that, and that's really exciting."
Besides attending South sports, she enjoys going to and watching the Eagles and Phillies with her husband, John. They also have a dog named Daisy, a pit-lab mix. "She is so cute," Mrs. Turner said. "She is a person to me."
To prepare for this school year, Mrs. Turner met with the school coaches to learn more about all the sports programs at South. She said this helped by "giving [her] insight into what South is all about, plus what the coaches and teams need from [her]."
As Athletic Director, Mrs. Turner organizes officials, games, coordinates with parent groups, checks to make sure all athletes are academically eligible, and  deals with any issues that a player, coach, team or parent might have. Her favorite parts of the job are "getting to watch and be around sports and doing something [she] love[s] because many people aren't fortunate enough to get to say that." She described the challenging part of the job as "trying to be everywhere at once for all the teams."
Mrs. Turner was especially excited for this school year's Friday night football games because Nazareth Academy, an all-girls high school, did not have a football team. Mrs. Turner said it was great to see a big student section such as the Titan Terror.
Mrs. Turner wants all student athletes to realize that "the word 'student' always comes first." She said, "I think sometimes athletes tend to forget that." All student athletes need to work to maintain being academically eligible and should get additional help when necessary. "Athletes need to remember that sports are extracurricular, not co-curricular, and that it is a privilege to play on a South team."
Mrs. Turner also acknowledged the importance of sports and how they have the power to bring a community together. "They provide one team to root for. Look at Titan Terror; to me, that is the greatest showing of our school community."
In addition to being the Athletic Director at South, Mrs. Turner is the District One Committee female representative. Central Bucks South is part of District One, which is part of the state organization PIAA. Mrs. Turner represents female athletics in all 96 District One schools, meaning she weighs in on female sports issues and advocates for female athletics at the District One level. "It is an honor to be elected by my peers to that position, and I take it very seriously," she said.
Mrs. Turner wants all students to know, "My door is open, and they can come in to talk with me when they have an issue." Corinne McDonald, a sophomore member of South's varsity soccer team, recalled when Mrs. Turner helped her fill and carry the water jug to the field. A task like this is not something Mrs. Turner is responsible for, but it is true to her character because she steps in whenever needed. McDonald said, "She is really nice and helpful. I always see her at South sporting events; I think she has come to all of our home games."
Regarding her new job at South, Mrs. Turner said, "I am happy to be here, and I am here to help."